Man steals ambulance while crew inside hospital
William Ivory, 57, took the ambulance for a joyride while the crew transported a patient inside
---
Emerson Clarridge
Fort Worth Star-Telegram
It is not clear what 57-year-old William Ivory's long-term plan was for the ambulance that he is accused of stealing Tuesday night.
Ivory, who authorities said had the MedStar ambulance for less than a half hour, did not get to decide.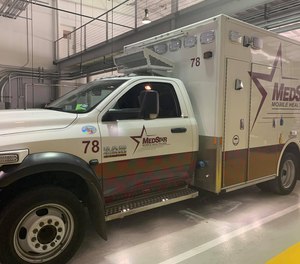 When it was taken about 10:30 p.m Tuesday, the ambulance was parked at a bay at Medical City Fort Worth, in the 900 block of 8th Avenue, police said. Its crew was with a patient inside the hospital.
A fob used to lock all of the vehicle's doors malfunctioned, MedStar spokesman Matt Zavadsky said, leaving at least one door unlocked. Once inside, Ivory found it running, the MedStar procedure used when its employees arrive at hospitals.
The effort to locate the ambulance was swift. A GPS-like device tracked it to the 5000 block of Blackmore Avenue, on the edge of Lake Como Park, about 5 miles from the hospital.
Police stopped the ambulance, and Ivory was taken into custody. He was arrested on suspicion of motor vehicle theft.
The suspect's trip was recorded on video from cameras that have views of inside the cab and in front of the vehicle, Zavadsky said.
———
©2020 the Fort Worth Star-Telegram
McClatchy-Tribune News Service

Request product info from top EMS Cameras & Video Systems companies
Thank You!