Medics write picture book to teach kids about EMS
Success of "Frederick the Paramedic" inspires paramedic couple to write a series of books for kids
---
Treating a sick or injured or child can be stressful for a paramedic. Having a paramedic use strange equipment to look at wounds or take vital signs can be frightening for a kid.
This is something paramedics Chris and Nicole Blongiewicz hope their book "Frederick the Paramedic" can help change.
The picture book features a friendly paramedic named Frederick who treats Tommie, a 12-year-old skateboarder who forgets his safety gear and injures himself. The book uses a story kids can relate to, and puts them in the shoes of Frederick's paramedic partner. As they explore the ambulance, transport Tommie to the hospital, give the medical report to the doctor, and even stick around for X-rays, the story aims to introduce children to the different equipment an EMS provider uses, and walk them through the process of assessing a patient so if they're ever injured or having a medical emergency, the situation may seem a little less scary.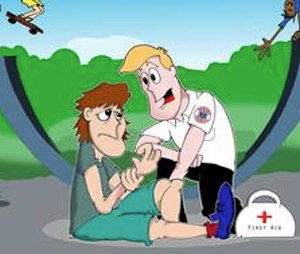 "The child reader is the paramedic doing all the stuff," Chris Blongiewicz said.
Hands-on learning
He and his wife Nicole, who both work at Trinity Ambulance in Lowell, Mass., decided to write the book after the birth of their daughter, now 3-years-old. When exploring resources on how to teach children about medical emergencies, they found pamphlets and basic advice on how to talk to kids, but "nothing that goes beyond that point," Blongiewicz said.
The couple raised $3,000 through Kickstarter for the project, and it took about a year to write the book. Since it was published in May, they have also been educating kids across the northeast through author readings at mother's groups, libraries and schools.
In June, they visited two schools and spoke with close to 500 kids in one week. During these readings, they bring along bandages and wraps, slings and splints, stethoscopes and blood pressure monitors. Children can hold and touch the equipment, and it often ends with everyone listening to everyone else's heart and lungs.
"It's breaking down the taboo that medical stuff is bad," Blongiewicz said.
Branching out
The success of "Frederick the Paramedic" has inspired them to turn the book into a series to help kids understand a wide range of medical emergencies.
Blongiewicz said he and Nicole are looking at future children's books that continue to address acute emergencies like accidents and falls, books that address chronic diseases like diabetes and asthma, and books that address situational emergencies like how to know if a grandparent is experiencing symptoms of a stroke, and what to do.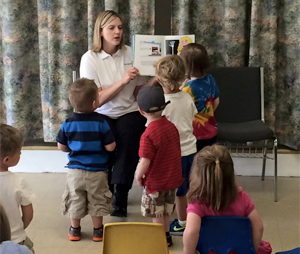 Co-author Nicole Blongiewicz reads to a group of children at the Ballard Vale United Church in Andover, Mass. (Image Facebook)
"Its important for kids to recognize the signs," Blongiewicz said.
He and Nicole also want to make sure that like "Frederick the Paramedic," the stories they create are both educational and accurate.
"The toughest part of the writing the book was making sure it followed all the correct protocols," Blongiewicz said. "We wanted to make sure it's the way it would happen on an actual call."
When it comes to pediatric calls in their own lives, Blongiewicz said he gets down to the child's eye level, and explains everything he's going to do before he does it.
"Explaining it to them is the biggest part that helps them understand," he said. "The fear of the unknown goes away."
Writing "Frederick the Paramedic," Blongiewicz said, hasn't given him a new perspective on calls that involve children. In fact, the opposite is true. He and Nicole relied on their more than 25 years of combined paramedic experience to drive the content.
"Every call," Blongiewicz said "was the precursor to the book."