Body armor saves pregnant paramedic and her baby
Dani Kamenar was 32 weeks pregnant when she was attacked by a patient while responding to a routine call
---
By EMS1 Staff
HARRISBURG, Pa. — A pregnant paramedic and her baby were saved by her body armor when she was attacked by a patient.
FOX43 reported that Community Life Team paramedic Dani Kamenar was 32 weeks pregnant at the time of the attack. She suffered a partial placenta abruption, but said it could have been much worse.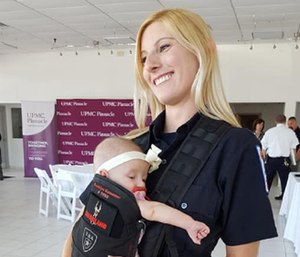 "The energy that could've been absorbed into my belly instead of the vest, it could have caused a full abruption which is lethal right then and there to infants the majority of the time," Kamenar said.
Kamenar and baby Brooklyn are now part of SAVES Club, a program created by the body armor company that honors first responders who experienced life-threatening incidents but were saved by the protective gear.
"This was the very first time that we got a call that an unborn child had been saved during an incident," SAVES Club director Ed Hinchey said.
Kamenar credits the body armor for Brooklyn being here today.
"It saved her life. It saved mine because that abruption could easily have caused more harm to both of us," Kamenar said.