Rapid Response: Active shooter or active stabber? The EMS response is the same
The citizen and EMS response to a masked Swedish man who stabbed four people affirms the continuing need for public access hemorrhage control
---
What happened: A man, armed with a sword, entered a school in Sweden and stabbed four people. He killed a student and a teacher and two others are reported to have serious penetrating abdominal and chest injuries.
Police engaged the attacker, firing twice. One shot hit the attacker, a 21-year-old male, who later died at the hospital. The attacker was allegedly wearing a dark mask and cape. Some outlets are reporting he posed with students, while holding a sword, for a photo before the attacks started.
Why it's significant: Active shooter or active assailant attacks are not unique to the U.S. This incident shares many of the traits we commonly associate with active shooter/assailant attacks: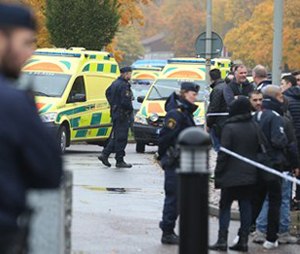 Lone, male assailant
Odd assailant behavior that points to mental illness
Gathering with or observing victims before attacking
Public/high occupancy building such as a school, church or movie theater
Penetrating traumatic injury that can lead to immediate or rapid death from hemorrhage and major vessel damage
Attack continued until police shot the assailant
Top takeaways: The debate about the effectiveness, or lack thereof, of gun-free zones, concealed carry guns, or arming teachers in either deterring or attracting crime will continue for some time.
The debate about public-access hemorrhage control, moving medics to victims as quickly as possible, and empowering civilians to run, hide or fight is settled. Here's why.
1. Injuries to chest and abdomen
The injury pattern — penetrating trauma to the chest and abdomen — might indicate the patients were either caught off guard, unable to mount a defense or somehow restrained. These injuries don't offer an obvious bleeding control opportunity for medics. Rapid extrication and transport to the hospital is the best opportunity for patient survival.
2. Run, hide, fight
The ability of this assailant to injure students and teachers is a relatively narrow-diameter circle of the sword and his arm reach. The prevailing advice to run out of the attacker's reach is lifesaving. Being out of sight by running is not necessary when the attacker is stabbing or slashing with a blade.
Hiding, as well as trying to isolate an attacker out of the reach of victims, is also an effective lifesaving strategy. If students or teachers engaged or fought the assailant, I would have expected extremity slash wounds.
3. Other weapons
More often than not, it seems that active shooters have multiple weapons on their person or more weapons cached in their vehicle or in the building. All responders need to assume the attacker, even if he first presents a sword, has multiple weapons and possible improvised explosive devices.
4. Bleeding control
The medical response to active shooter or active assailant has to begin before medics reach the patient. In a school the teachers and principals need to be trained to recognize life-threatening bleeding, control bleeding with a tourniquet, and, if able, move patients towards a casualty collection point for EMS transport.
Engaged citizens everywhere, not just off-duty medics and survivalists, need to learn how to use a tourniquet and consider keeping one in their home, vehicle and office.
What's next: Police and paramedics everywhere need to continue collaborative training for active shooter/assailants, advocate for public access hemorrhage control, and resolve to be prepared for an active assailant in their community.
Further reading:
EMS must prepare citizens for an active shooter incident
Why EMS personnel need an off-duty bailout bag
Why police need to train to use and carry an IFAK
Public access hemorrhage control devices
Active shooter response training for EMS: Get it done!
Active-shooter incidents: Steps to prepare, train and respond from EMS experts
Active shooter incident: Overcome adrenaline to focus on one patient at a time

Request product info from top EMS Bleeding Control companies
Thank You!