Medical response to Paris attacks was 'civil application of war medicine'
A team of 20 doctors and crisis experts organized the medical response, sending three-person teams into the field and setting up triage operations in hospitals
---
By Karen Kaplan
Los Angeles Times
PARIS — On the morning of Friday, Nov. 13, doctors throughout Paris — along with emergency personnel from the city's fire brigade — held a drill to hone their response to a multiple-shooting disaster. Several hours later, when terrorists really did stage shootings and bombings throughout the city, many of those doctors at first believed it was another phase of that exercise.
They soon realized they were dealing with the worst attack Paris had seen since World War II. By the time the siege ended, medical teams had attended to 302 patients, including many with life-threatening injuries. (Another 129 victims were pronounced dead at the attack sites.)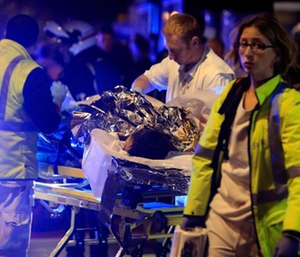 "This is the civil application of war medicine," wrote the authors of a poignant essay published Tuesday in the medical journal Lancet.
The attack prompted the city's public hospital system to activate its emergency "White Plan" for the first time since health officials started working on it 20 years ago. Extra workers were called in, and patients in postoperative care units were transferred to make room for the casualties.
A team of 20 doctors and crisis experts organized the medical response, sending three-person teams into the field and setting up triage operations in hospitals. They also established a psychological support center in a hospital in central Paris.
Meanwhile, doctors and nurses around the city reported for duty without being called. The extra personnel allowed surgeons to open six additional operating rooms — two for orthopedic surgery, two for abdominal surgery, and one each for neurosurgery and ear, nose and throat surgery.
The crisis team also readied a secondary system of hospitals and prepared 10 helicopters to transport patients to more distant locations if necessary. (Luckily, it wasn't.)
"At no time during the emergency was there a shortage of personnel," wrote Martin Hirsch, director-general of theAssistance Publique-Hospitaux de Paris, and his colleagues (link in French). "Despite this unprecedented number of wounded, the available services were far from being saturated."
The first mobile teams — each comprised of a doctor, a nurse and a driver — were dispatched within minutes of the suicide bombing outside the Stade de France, site of the soccer match between France and Germany. Altogether, 45 teams were deployed and 15 more "were kept in reserve, since we did not know how and when this nightmare would end," the authors wrote.
By treating some patients in the field, the mobile teams reduced crowding in the emergency rooms. Their field assessments allowed them to send patients directly to hospitals set up to deliver the appropriate type of care.
The White Plan included a "fast-track service" for patients with penetrating gunshot wounds and victims of "war arms." (The essay authors noted that 80% of patients shot in the head or chest typically die from their wounds.) As these patients were moved into operating rooms, more space was available for doctors to treat other critically injured patients.
Although a Friday night might seem like an inconvenient time for a mass-casualty event, the situation would have been worse if the terrorist attacks had happened in the middle of a weekday, the essay authors explained: Doctors and other staff would have been busy treating other patients, and sterile items would not have been fully restocked.
Twenty-four hours after the attack began, all 302 patients had been discharged from the emergency rooms and shock trauma units where they were first treated, and all emergency surgeries were complete. Only four of these patients died — a mortality rate of 1%.
"Each participant wanted to do more than his or her best for the victims," the essay authors wrote. "And they did it!"
The authors wrote that they received critical advice from colleagues around the world who handled similar types of mass-casualty events, including the 2013 Boston Marathon bombing. By sharing their experiences in medical journals, they helped Paris authorities improve their own emergency response plan well before the events of Nov. 13.
"The number of admitted patients was far beyond what we could imagine we would treat at the same time," they wrote. Even so, "the resources available were never less than required."
(c)2015 Los Angeles Times