PRESS RELEASE
Announcing a New MedaPoint Financial Services Webinar: The Compliance Hot Seat 1/22/15
---
Register now for a new MedaPoint Financial Services Webinar: The Compliance Hot Seat!
This timely webinar kicks off the New Year with the top billing and documentation compliance problems faced by emergency and non-emergency ground ambulance providers. We identify the issues and offer viable solutions to tackle common compliance risks. This session will also be helpful to billing companies who are so dependent on the documentation they receive from the providers they serve. Attendees will receive Continuing Education Credit for attending this webinar.
When: Thursday, January 22nd
Time: 1:00 pm (CST)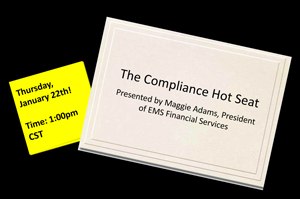 Presented by Maggie Adams, President of EMS Financial Services
About MedaPoint
MedaPoint is revolutionizing emergency medical services (EMS) — by delivering efficient, state-of-the art billing and dispatch solutions which are both affordable and accessible. Built on groundbreaking technology and dynamic vision, our applications currently support more than 1,500 private and municipal EMS providers. We offer a comprehensive 100% Web-based solution purposely built for EMS, available through our unique "pay as you go" subscription model.