Off-road ambulance to help Hurricane Maria victims
Clinton First Aid and Rescue Squad is deploying its ASAP, or Alternate Support Apparatus, unit to help in rescue efforts
---
By EMS1 Staff
HUNTERDON COUNTY, N.J. — A specialized ambulance is deploying to the U.S. Virgin Islands to help after Hurricane Maria.
NJ.com reported that the Clinton First Aid and Rescue Squad is bringing its Alternate Support Apparatus (ASAP) unit. The vehicle is an off-road six-wheel drive specialty ambulance equipped with full patient care capabilities.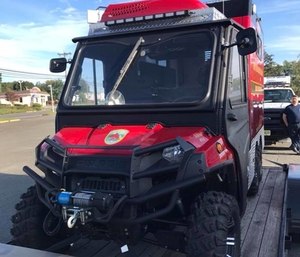 The unit will be deployed after a mutual aid request from the U.S. Virgin Island Territory's Emergency Management Agency and will join five others from across the state. It was transported to Joint Base McGuire-Dix-Lakehurst and is being readied for transport to the islands by the Air Mobility Wing.
EMT Tim Shanahan will operate the unit and will be part of a 50-person team from New Jersey. The ASAP Task Force will respond to calls for emergency medical service in remote areas of St. Thomas and St. John that cannot be accessed by normal ambulances due to the hurricane devastation.