New Demers Type 1 MXP 150 is light, innovative
The new MXP 150, which was unveiled at the FDIC in Indianapolis, boasts a range of innovative designs that are miles ahead of Demers' previous design
---
When the engineering team at Quebec-based Demers Ambulances sat down last year to design their new Type 1 MXP 150 ambulance, their primary focus was on making an apparatus that fit all the requirements of the U.S. market.
The new MXP 150, which was unveiled at FDIC in Indianapolis, boasts a range of innovative designs that are miles ahead of Demers' previous design.
One of the biggest changes is body length: the new design is 150 inches long — a 6-inch increase from the previous Demers' Type 1 model. Interior headroom has also increased, from 64 to 72 inches.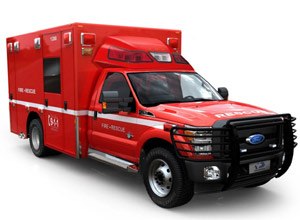 Demers puts all that extra space to full use — the MXP 150 has a wealth of storage inside and out, including several compartments just on the exterior, one of which provides access to interior storage.
This last is important, says Michel Pelletier, head of engineering for Demers, because their research showed that many medics appreciate to access interior storage from the outside. Other exterior compartments are used for oxygen, backboards, an electrical panel, or general use.
Pelletier's team used aluminum for all the interior surfaces, allowing them to greatly reduce the apparatus' weight. Cabinets, cabinet doors, squad bench, interior walls — all are aluminum, which Pelletier says is lighter, ages better, and is more durable than the particle board or composite materials that other ambulance designers use.
Through its use of aluminum and other weight-saving designs, Demers brought the MXP 150 into KKK payload compliance for the Ford F350 as well as the more common F450. "It can carry more payload, more equipment, more crew. You can even use it as a bariatric unit. It's best in class for payload capacity," Pelletier said.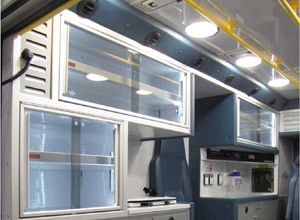 Photo courtesy Demers
The full LED cabinet lighting is shown inside a Demers MXP 150.
Other innovations include a first for ambulance design: flush mounted windows – common in automotive windshields — on the side-entry and rear-entry doors (which are more durable, easier to clean, and larger than the previous model). The new design also has a heads-up control console mounted so that it is within the driver's peripheral vision, and LED lights all around.
Two exclusive features that Pelletier is most proud of are the MXP's aerodynamic design and a re-designed heating and air conditioning system.
Using computational fluid dynamics (CMD) computer software (which mimics the kind of testing automotive designers do in wind tunnels), Demers was able to test the aerodynamic roof design of a Demers' Type II and Type III model in order to streamline the design and reduce air drag almost 15 percent over the previous model. Calculations using other Demers models brought similar results.
"That translates instantly to improved fuel economy, especially at highway speeds. That's a huge concern for most agencies in this era of ever-increasing gas prices," Pelletier said.
Another new innovation is the MXP's integrated heating system, which relies on a separate set of air vents from the air conditioning system to heat the interior. It works by flowing heat from vents along the base of the interior cabinetry, unlike typical systems that rely on the same air conditioning vents on the ceiling of the interior to supply warm air.
Separate A/C vents are spaced ergonomically throughout the interior, allowing medics to adjust the cold-air stream to the most appropriate direction.
"Heat rises through the interior and warms the air in a diffuse fashion," Pelletier said. "Our system provides gentle and constant heating – much more comfortable for the patient."
Since its inception 51 years ago, Demers has sold more than 15,000 ambulances to customers in more than 20 countries in North America, Latin America, the Middle East, Africa and Europe. For more information, visit them on the Web at www.demers-ambulances.com.