NC county EMS buys its first 4x4 ambulance to prepare for winter
The service purchased the four-wheel-drive ambulance after struggling through last year's winter storm
---
Jennifer Atkins Brown
News & Record, Greensboro, N.C.
ROCKINGHAM COUNTY, N.C. — Rodney Cates, Rockingham County's emergency services director, learned a valuable lesson from last winter's epic storm, Diego. His department needed a better way to get to people in need of help.
"We received 18 inches of snow, and we had issues navigating snow-covered roads," Cates said. "In the days following the storm, we had trouble accessing driveways due to piled up snow and snow-covered driveways."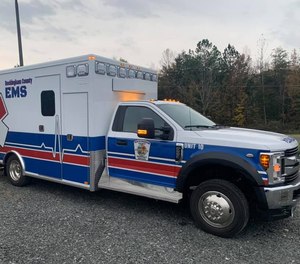 The solution? Rockingham County Emergency Medical Services recently received its first four-wheel-drive ambulance, a 2019 Ford F550. The county manager and Rockingham County commissioners approved the purchase in the this year's budget. The ambulance, bought from Northwestern Emergency Vehicles in Jefferson, cost $182,000. Cates and his staff did their background research and looked at several different models and designs. They also talked with other agencies about their 4x4 units before deciding on the F550.
"It was actually a demo that Northwestern Emergency Vehicles had," Cates said. "It could easily be converted to meet our specifications, and we were able to purchase it at a reduced cost because it was a demo model."
Diego was not the first storm to cause problems for EMS. In the past, the department depended on its 4x4 administrative vehicles to make initial patient contact when driving conditions were bad. Though these trucks and SUVs are certified as "Quick Response Vehicles," they can't be used to transport patients.
"We have relied on our fire departments and rescue squads to assist EMS crews with patient access on snow-covered driveways," Cates said. "With the severity of the winter weather events that occur in the county and especially the 18 inches of snow that occurred in December 2018, the need to purchase a 4x4 ambulance was obvious."
With the addition of the F550 to its fleet of 14 ambulances, Rockingham County EMS will now be able to more easily traverse snow-covered surfaces.
"The 4x4 unit creates a safer traveling environment for our EMS crews, as well as our patients," Cates said.
The new ambulance also comes with an Arctic Wedge air-conditioning unit for the patient compartment. This design is supposed to be more efficient and require less maintenance.
Special training is not needed to drive the new ambulance, as staff are trained as emergency vehicle drivers. The truck is already in service and being used in daily operations.
Cates said his goal is to add more 4x4 ambulances in the near future.
"We will request permission to purchase one 4x4 ambulance each budget cycle for several years to increase our 4x4 fleet over a multiyear period," he said.
———
©2019 the News & Record (Greensboro, N.C.)
McClatchy-Tribune News Service

Request product info from top Ambulances companies
Thank You!