REV Ambulance Group debuts Per4Max seat belt system
The REV Ambulance Group seat belt system includes a four-point restraint, as well as controlled decelerator technology, which helps absorb energy during a crash
---
By EMS1 Staff 
MILWAUKEE — REV Ambulance Group recently created a seat belt safety system for first responders called Per4Max and are inviting EMS World Expo attendees to take the "Per4Max Challenge" to demonstrate the system's ease of use and flexibility.  
The Per4Max technology provides four-point restraints, which enables providers to freely move and perform their duties while strapped in, according to a REV Ambulance Group press release. Per4Max, which was named a finalist for the EMS World Innovation Award 2019, uses controlled decelerator technology built into the webbing of each belt, which helps absorbs energy during a crash, lowering the potential for serious injuries.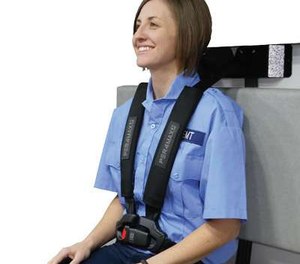 The four belts – two across the shoulders and two on each side of the waist – connect into one buckle that sits low across the provider's hips and are expandable and retractable to accommodate different body sizes.  
"According to NHTSA, 84% of EMS providers do not wear a seat belt because it interferes with their ability to do their job delivering patient care," REV Ambulance Group President Anoop Prakash said. "We are committed to being at the forefront of innovation, as well as ensuring the safety of emergency responders." 
The Per4Max was tested in an exclusive partnership with IMMI in front-end, side-impact and rollover collisions, all of which successfully protected providers.  
To take the Per4Max Challenge, visit REV Ambulance Group's booth #1301 from Oct. 16-18 at EMS World Expo. Cast members from A&E's "Nightwatch Nation" and FOX's "First Responders Live" will also be making appearances at the booth during the conference.  
Request product info from top EMS Ambulance Safety companies
Thank You!