Off-duty paramedic saves man's life at gym
Stephen Harris was touring the gym with his son when a man on an exercise machine collapsed
---
By EMS1 Staff
ELIZABETH CITY, N.C. — A paramedic saved the life of a man at the gym when collapsed on an exercise machine.
Daily Advance reported that paramedic Stephen Harris decided to use his gym membership at Planet Fitness for the first time. He was getting a tour of the facilities when a man on a stair-climbing machine collapsed.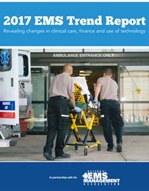 Harris said he realized the man was having a seizure and quickly jumped into action. He called 911 and then started administering CPR to the man, who had stopped shaking but had no pulse.
A bystander grabbed an AED from the gym and Harris used it on the man before continuing CPR.
"I then noticed that he started blinking his eyes and he started coming to," he said.
Harris said by the time Pasquotank-Camden EMS, the man was having a "one-in-a-million" response.
"I mean, we revive people on the street, in the ambulance, but we usually don't ever have 'em talking to us," Harris said.
"The way the events played out, the man was very fortunate that that happened at that moment," she said. "If there hadn't been quick reaction from all of us, he might not be here today," Planet Fitness general manager Suzan Smith said.