Fla. man gets naked, exposes self to providers in ambulance
A man listed as transient in St. Petersburg misbehaved while EMTs tried to treat him, an arrest report says
---
Howard Cohen
Miami Herald
ST. PETERSBURG, Fla. — A man called for an ambulance complaining of "shortness of breath." But once paramedics arrived and whisked him inside their emergency vehicle, he took matters into his own hands.
That's when St. Petersburg police got a call around 2:50 p.m. Thursday, Oct. 14.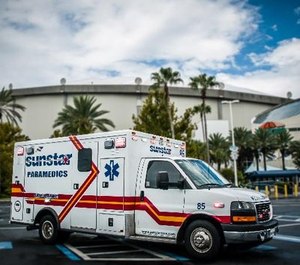 According to an arrest report, Terry Wayne Majors Jr., 30, who is listed as transient in St. Petersburg, got "fully naked" in the back of a Sunstar ambulance and started masturbating while wearing a condom "while looking at EMTs that were trying to treat him."
This, needless to say, is not an advisable, or legal, remedy for what ails you while in an ambulance in the presence of others, according to police.
Officer Hannah Duran's report also adds that as the ambulance continued to a St. Petersburg hospital, Majors then asked for an ice pack upon which police say he "proceeded to fold it and masturbate with it in the ambulance."
The first responders want to prosecute, according to Duran's subject charge report.
No word on whether Majors had, or was treated for, shortness of breath.
Majors was charged with a misdemeanor count of exposure of sexual organs and was booked into jail in Pinellas County. He was released at 1:30 Friday morning on his own recognizance, according to court records.
In September 2020, Majors had been charged and arrested for selling a quarter gram of crack cocaine to an undercover Pinellas County Sheriff's Office deputy for $40 in the parking lot of a Rodeway Inn in Clearwater.
On Aug. 15, he was arrested and charged with trespassing on St. Anthony Hospital grounds in St. Petersburg when he refused to leave after a security guard told him he couldn't stay, according to court records.
The ambulance story was first reported by The Smoking Gun.
___
©2021 Miami Herald
McClatchy-Tribune News Service