SCCAD debuts $32M consolidated headquarters facility
The 140,000 square foot facility combines operations from five existing SCCAD facilities and was completed two months ahead of schedule and $2 million under budget
---
By Rachel Engel
ST. PETERS, Mo. — The St. Charles County Ambulance District (SCCAD) announced the completion of its consolidated headquarters facility, which brings together several different operations under one roof. 
The 140,000 square foot facility will combine operations from five existing SCCAD facilities – administration, training, finance and human resources buildings from St. Peters, a logistics and fleet maintenance facility in Cottleville and a non-emergency transfer hub in O'Fallon.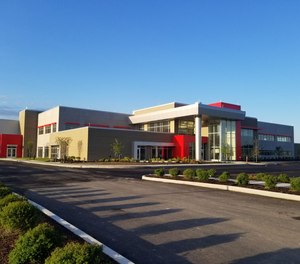 "The opening of this facility represents a milestone in the history of our organization," said SCCAD Chief Kelly Cope. "Though we're excited about many facets of this all-inclusive project, we're particularly enthusiastic about the training capabilities it affords our team and the community at large."
The facility was completed two months ahead of schedule and nearly $2 million below budget. 
"When planning every detail throughout the design and construction process, we considered the needs of the District not only today, but also decades into the future," Cope aid.