Quick Take: Federal initiatives support every EMS system
Presenters from the NHTSA office of EMS discuss military medic to civilian EMS, development of evidence-based EMS guidelines, and ground ambulance crash data
The National Highway Transportation Safety Administration (NHTSA) has a historic and ongoing connection to EMS systems. The four NHTSA National EMS priorities are:
Expand and monitor EMS capacity
Improve emergency health outcomes
Coordinate federal support of local, state, and tribal EMS systems
Promote a prepared, coordinated, and healthy workforce
During a session at EMS Today in Baltimore, Md., staff from NHTSA discussed the role of the federal government in addressing those priorities as well as these issues:
Ease transition of separating military medics into civilian EMS careers
Identification and implementation of evidence-based guidelines
NHTSA investigation and reporting of ground ambulance
Separating military medics transitioning to civilian EMS
Military medics (68 Whiskey) are one of five military occupations that are the focus of a Whitehouse effort to increase employability of veterans. A NHTSA workgroup is working on this project pre- and post- separation for the nearly 10,000 medics that are separating from the military each year.
NHTSA is partnering with the National Association of State EMS Officials to increase standardization of state licensure requirements for veterans, provide a single source EMS credential information website for veterans, and develop curriculum for military medic to paramedic (MMTP) bridge education. Ten MMTP bridge programs are currently being tracked to understand the education being delivered.
"To get forward momentum we need important partnerships in military, federal government, state government, and non-governmental organizations." — Gamunu "Gam" Wijetunge, NREMT-P, Office of EMS, NHTSA
Implementation of evidence-based guidelines in EMS
Evidence-based guidelines are an effort to use data and research to drive decision making and care in EMS. Evidence-based guidelines have been developed and published in the Prehospital Emergency Care journal. Those guidelines are:
External hemorrhage control
Pediatric prehospital seizure management using GRADE methodology
Prehospital analgesia in trauma
Air medical transportation of prehospital trauma patients
"We need evidence-based guidelines to improve patient care." —Drew Dawson, Office of EMS Director, NHTSA
Learn more about the National Prehospital Evidence-Based Guidelines Model Process
NHTSA analysis of ground ambulance crashes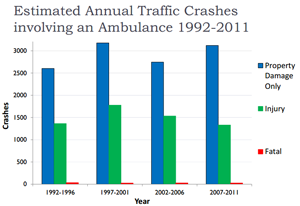 Mirinda Gormley, a public health fellow at NHTSA and volunteer paramedic, analyzed data from Fatality Analysis Reporting System to better understand ground ambulance crashes.
Between 1992-2011 there were an average of 4,500 motor vehicle traffic crashes per year involving an ambulance.Those damage, injuries, and fatalities from those crashes are distributed as follows:
65 percent property damage only
24 percent resulted in injury
<1 percent involved a fatality
The data set includes injury or fatality of anyone associated with the crash, in or out of the ambulance. The annual average is 33 fatalities. Those fatalities are most likely to be an occupant of the other vehicle (63 percent). Twenty-five percent of the fatalities are either the driver of the ambulance or another ambulance occupant.
"Most of the crashes are occurring in clear conditions, during the daylight hours, and on urban roadways. We should always be vigilant and seatbelted when driving an ambulance." — Mirinda Gormley, MPH, NRP, Office of EMS, NHTSA
Learn more about the NHTSA investigation into ground ambulance crashes and view the presentation slides.
The NHTSA Special Crash Investigation http://www.nhtsa.gov/SCI team has included ambulances as a type of vehicle to investigate since the early 2000s. Criteria for an SCI include fatality or hospitalization of an ambulance occupant, failure of ambulance equipment, suspected malfunction, or other extenuating circumstances. SCI engineers have investigated 41 crashes and published 36 technical reports to-date. http://www.ems.gov/safety-GA-sci.htm
For more information on the NHTSA Office of EMS
To learn more about the NHTSA Office of EMS and its national EMS priorities visit EMS.gov.