Field supervisors: Bridging the gap
Linking field providers to organization vision by involving field supervisors in decision making and administrative training
---
EMS graduates can climb the career ladder quickly, arriving in leadership positions with minimal life or professional experience, and even less management training. Supervision is as different from clinical medicine as auto repair is from plumbing. Even a smart, motivated individual will need additional skill sets to succeed in the new role.
In this special coverage series, learn how to equip field supervisors with the skills they need to be effective in their roles.
In the world of EMS, it's common practice to promote our own EMTs and paramedics into supervisory roles within our organization. This practice of internal recruitment for promotions has worked well in the past and continues to work well for many reasons.
EMTs and paramedics promoting into a supervisor role within their own organization have great experience working in the field, knowledge about the system they work in and often some general understanding of administrative processes.
To help prepare them for a supervisor role, we take time to provide them with additional training specific to the field supervisor role and send them out on their own; this is where our industry can do better.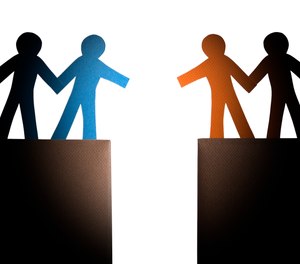 In all organizations, field supervisors are in a vital role. They often become and are the link between the field staff and management. Field supervisors are often the first people to receive crew input and are responsible for passing on that input and concerns to upper management, as well as reporting on what they see out in the system. It is a balancing act for field supervisors who also need to consistently support the goals and mission of the organization. They are essential to ensuring that any changes and/or organizational goals are effectively communicated to the field crews.
Caught in the middle
In their own right, field supervisors are an incredible resource for field crews as well as management, but they may get caught between the two groups, trying to effectively communicate to everyone.
Fairly often, upper management is responsible for making high level decisions that can have an impact on processes and procedures for field crews in the system, while field supervisors are expected to assist in implementing these changes out in the field. However, they are rarely involved in the development and planning process of why certain changes are being made. Sometimes, field supervisors are notified of changes shortly before the rest of the workforce. This can put them in a difficult spot to try and implement a change they may not fully understand themselves and unable to answer field crew questions during this process.
The role of a field supervisor needs to be enhanced. If we include the supervisors in the planning process, we can empower them. This would provide them with the opportunity to have more knowledge about process and procedure changes. It will also give them the ability to accurately answer any questions employees may have. Including field supervisors in more administrative decisions can help invigorate and assist in strengthening the trust they have with field crews because they were part of the decision process. This can also help them feel more like a leader within the organization.
Excluding field supervisors from administrative decisions creates (what I truly believe is an unintentional) gap between the supervisors and upper management. The field supervisors are so crucial to daily operational success, they can often become stuck, in a sense, to the field.
The key to bridging this gap is simple; our industry needs to move away from the historical view and traditional role of a field supervisor. Instead of only giving them the tools to implement changes in a system they supervise daily, we increase their responsibility when it comes to organizational decisions and allow them to grow as professionals. In return, they can be more confident in their participation in the implementation process of the organizations policies, procedures and process changes. This can also give field crews a stronger conviction of their supervisor's abilities to lead, understand and support them more efficiently.
Foundational skill building
A good foundation to any internal field supervisor training program is an introduction to the roles and responsibilities of other departments. Prior to launching field supervisors into the field, it is important to focus a portion of their training on gaining an understanding of:
Community relations
Public relations
Ambulance billing
Medical/legal compliance
Field supervisors may need to take on the role of PIO at an incident scene.
Understanding reimbursement rates along with the potential loss of revenue on an incomplete or poorly documented PCR gives them an important perspective on tracking down missing or incomplete PCRs.
Spending time in each of these departments allows the supervisor to see the big picture and gain experience in some of the unseen areas that keep our organization running smoothly; it is an amazing perspective to have.
As I moved up through the ranks within my own organization, I found it challenging to navigate through the issues of transparency and inclusion with the field supervisors. I worked hard to be informed and if I was not given the information I needed to be a good supervisor, I would ask questions of my management team. This has helped shape me in my role as an executive director. It is important to me to include our leadership team as well as field supervisors as a whole in the planning and implementation of new processes and procedures.
The greatest strength of an organization is the enthusiastic resources of our people and investing in them as leaders will only contribute to the unwavering success we have in our community.