Paramedic Andy Bruch embraces EMS in the bayou
West Virginia native learns to work around creepy crawlers and more in a 42-year EMS career
---
When Andy Bruch relocated from Bluefield, West Virginia to New Iberia, Louisiana in 1981, he adapted to local protocols and customs fairly quickly.
Learning about Louisiana wildlife took a little longer.
"I'd just started working for Acadian in New Iberia when we were sent to an MVC in the swamp," says Bruch. "I opened the back doors of the ambulance and left to check on our patient.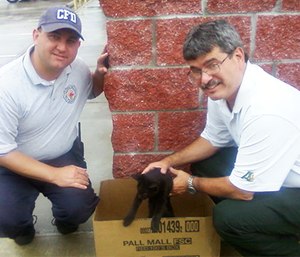 "When we came back to the unit, I noticed the white interior had turned totally black thanks to the state bird of Louisiana, the mosquito. There were so many bugs in the truck we had to clear them out before we could put the patient in."
That wasn't Bruch's only reminder he wasn't in West Virginia anymore.
"We were working an overturn on Highway 90 between Lafayette and New Iberia. I was on the ground helping to extricate the patient when I felt something strange on my legs. I looked down and I was covered with fire ants.
"When they started biting in unison, I did this little dance to try shaking them off. That didn't help, so I ended up having to pull my pants off right there on the side of a major road. The cop directing traffic was laughing so hard, I thought he was going to cause another wreck.
"Good thing I wasn't going commando that day."
EMS in his blood
Bruch comes by his interest in EMS genetically, or so it seems. Older brother Bobby, 60, is a paramedic and sister Katherine, 49, is a full-bird Army colonel who began her career as a combat medic.
"I started volunteering in Bluefield in 1974 when I was 16," says Andy. "They let me ride as an 'ambulance attendant' because I'd learned advanced first-aid already, through the Boy Scouts."
Bruch says EMS in West Virginia was pretty informal back then.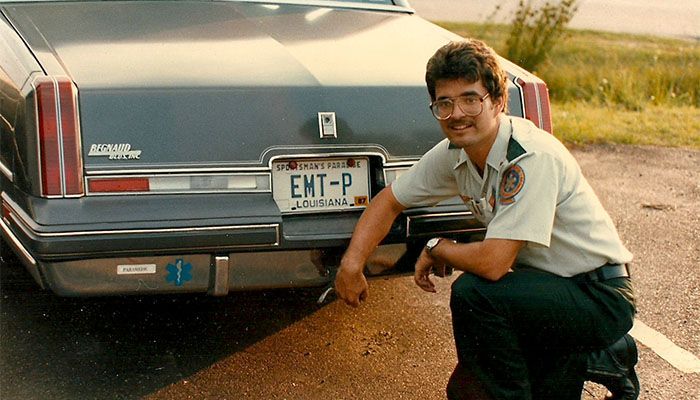 Paramedic Bruch in 1986.
"The camaraderie was great. We'd play pool and ping pong at headquarters, then go down the street to the Bluefield Auditorium and stand by at what we called the 'hog stomp' — a good old mountain music festival every Saturday night.
"My brother and I used to bring the ambulance home sometimes, too. If we got a call, we'd go out and run it, then come back. Our parents were very understanding about those interruptions."
A passion for education
Bruch became one of West Virginia's first EMTs shortly after that certification was introduced in the mid-'70s. By 1978 he'd upgraded to EMT-I, then graduated from Marshall University's paramedic program in '79. He didn't stop there, though.
"I got my B.S. in biology from Bluefield State College in 1981," Bruch says. "Right after that I was recruited by Acadian and moved to Louisiana."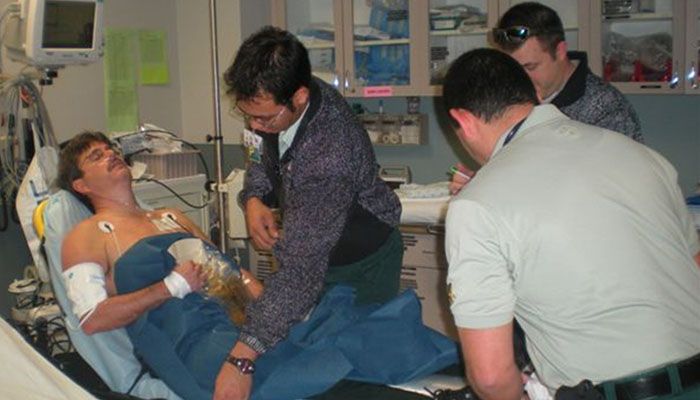 Bruch plays a STEMI patient for his students.
Bruch added a Master's in Health Science Administration in 1987 and a Nursing degree in '93. By then he'd gained experience as an instructor and supervisor at Acadian. He says the late Norman McSwain was a big help along the way.
"The thing that impressed me most about Dr. McSwain is that he wasn't too good to help with anything. If somebody needed a chuck bucket, by golly, he'd go in there and hold the chuck bucket.
"He'd ask us, 'What have you done to benefit mankind lately?' He didn't mean, what did you do last week; he meant today. He believed you shouldn't rest on your laurels."
After 42 years in EMS, Bruch tries to pass along experience plus advice he's accumulated from McSwain and other mentors.
"You'll have good days and bad days," he says. "Most days are good, just like most people in this world are good, but you will have that day from hell. It will test you and try you and weigh on you heavily. You just have to work through it.
"A friend of mine had four pediatric cardiac arrests in a very short period of time. He dealt with the first one and the second one fairly well, but eventually couldn't work in the field because they weighed too heavily on his mind.
"You just have to understand everything comes in cycles. Don't dwell on it — there are better times ahead."
Whole lotta shakin'
For Bruch, some of those better times are combinations of EMS and another interest of his, music.
"I was working a jazz festival in New Orleans, where Jerry Lee Lewis was opening for Elton John," he remembers. "Well, 'The Killer' comes on and starts doing Whole Lotta Shakin' Goin' On. You can probably guess what happened next: one of the folks in the crowd got all worked up and went into a grand mal seizure. Not that I'd take delight at anyone's misfortune, but you can't help appreciating the irony.
"Another time I was dispatched with my good friend Kevin Freeman to a cardiac arrest at a Fleetwood Mac concert. We heard CPR was in progress, so we ran out in front of the crowd and climbed up the railings to see if we could spot the patient. I remember glancing up on stage and seeing Stevie Nicks looking at me like, what in the world are you doing?
"We finally found the patient, who was not in cardiac arrest, but had heat exhaustion. However, some guy in the crowd claimed he did five chest compressions before the patient came around, so Kevin and I figured we could brag about it as a 'save.'"
Don't stop thinking about tomorrow
At 58, Bruch says he doesn't plan on leaving EMS anytime soon.
"Thanks to the benefits they have here at Acadian, I could retire in a few years, but I don't see any reason to. I still enjoy it. As long as I'm physically and mentally capable of handling the job, I plan on doing what I've been doing.
"Except maybe dancing with fire ants."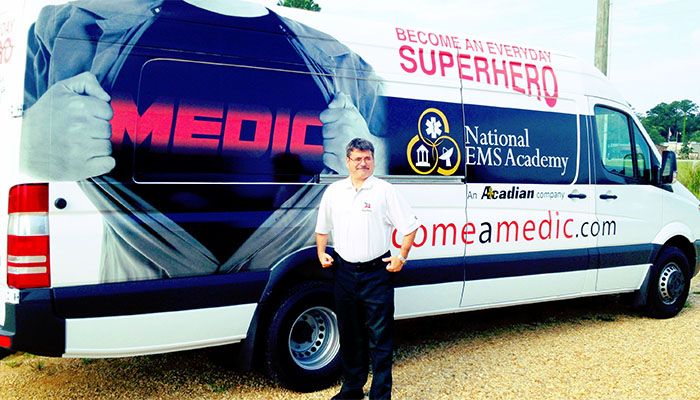 Andy rocking the colors of Acadian Ambulance.