Medical magnet high school prepares students for EMS careers
Graduates of an innovative high school in Las Vegas are determined and passionate to make a difference for their community as caregivers
By Shelly Kinnunen
The tardy bell rings and I walk to my desk. My students, high school seniors, are sitting in their seats answering the three warm-up questions from the board as I take attendance. After a few minutes we go over the questions as a class and I instruct the students to get out their textbooks so that we can start the day.
This isn't just any high school class; this is an emergency medical technician class. I am "Mrs. K", EMS instructor, to my students at Rancho High School, Las Vegas.
The EMT program today
In 2009 I started teaching the EMT program, becoming the first Nevada licensed and Clark County School District contracted teacher. Previously there was always a licensed teacher who took attendance and entered grades for the class while the third party EMS instructor taught the curriculum.
I was the first teacher in the state of Nevada that was also licensed as an EMS instructor, changing the perception of EMT programs in Nevada high schools. Other high schools have established EMS programs modeled similarly to Rancho's program.
The Rancho medical academy gives the students a basic understanding of medicine over their four years at the school. Students apply for admission into the program. Last year 2,212 students applied for 185 spots in the medical academy and 130 spots in the aviation and engineering academy.
When students enter my EMT class they come in with a basic understanding of the human body, how to take a history and perform a physical exam, how to obtain vital signs, and many other skills that most EMT students do not have when they start a class. As an EMS instructor this gives me a significant advantage. I am able to take the EMT curriculum to a higher level because of the prior knowledge my students come into my class knowing. I also have an advantage in that I see my students for almost two hours a day, five days a week, for 36 weeks.
History of Rancho High School
Rancho High School opened its doors to students in North Las Vegas in 1953. It is a school with as rich a history as the town it's located in. Basketball player Greg Anthony and music star Ne-Yo each once walked its hallways. In 1997, Rancho became a magnet school in the Clark County School District, which is the fifth largest school district in the United States. Students in CCSD are able to apply to schools with specialized programs that focus on different academic areas while in eighth grade. Rancho started the first medical academy in Clark County and the only aviation and aerospace academy in the state of Nevada.
Rancho offered its first EMT class in 2000, taught by Susan Hardy, who lived in Mesquite, Nevada, approximately 90 miles from Las Vegas. While teaching at Rancho, Hardy bought a trailer that she kept in Las Vegas and lived in three to four days a week so that she could teach the EMT class.
Hardy saw the potential that an EMT class offered to high school students and was passionate about teaching the future of EMS. She eventually left Rancho and her spot was filled by instructors who come in to the school just to teach the EMT class. Around 2007 the North Las Vegas Fire Department took over the program, sending instructors from their department to teach the students a few days a week.
As the populations of Las Vegas, North Las Vegas, and Henderson have grown so has the number of students that attend Rancho. This year about 3,200 students walk the corridors daily. The magnet academy accounts for approximately 1,100 of those students.
Rancho is located in a very low socioeconomic area of Las Vegas, with 70 percent of its students receiving free or reduced lunch. More than a few students at the school are homeless and find Rancho to be a safe place where administrators, teachers and staff do all that they can to help them succeed.
My story
Rancho High School has always held a special place in my heart because I graduated from the school in 2002. I was in the second graduating class of the medical program, opting to take the EMT class my senior year. I was one of six students, out of 25, who became an EMT-Basic at the end of the school year.
Right after high school I started at UNLV as a math major and began working as an EMT at MedicWest , at the time Southwest Ambulance. A year later I became an EMT-Intermediate and then an Emergency Medical Dispatcher. I was able to work full-time in our dispatch center while attending college.
I graduated with a Bachelor of Arts in mathematics in December 2006 and began working on my master's degree in education in the fall of 2007. I started teaching math at Rancho in August 2008. A year later I transitioned to the medical department where I have been ever since.
Getting into EMT class
The students in the Rancho medical academy have several options to choose from their senior year for their medical magnet class. Rancho also offers a medical internship class which allows students to leave campus during the second semester of the school year for an internship site. Students obtain hands-on experience in the career field they are interested in during the internship.
Rancho also offers a sports medicine class taught by our school's athletic trainer. Students in that class shadow the instructor while she works at sporting events.
Seniors are also able to take a pathology class, taught by an instructor who has her master's degree in forensic science. In this class, students are taught all manners of death and perform an autopsy of a fetal pig for their final exam to determine the cause of death.
Juniors apply for the EMT class by submitting a resume, teacher recommendations, and an essay about why they should be given a seat in the class. The class is capped at 25 seniors, which makes it very competitive to get into. In addition students in the EMT program have five other classes to attend each day, ranging from basic math classes to AP Calculus.
As the only instructor in the EMT program I teach the entire curriculum and conduct all of the labs. To date my students have a 100 percent pass rate on the skills portion of the NREMT test. At the conclusion of the annual skills test I have had paramedics with 20 years of experience in Las Vegas tell me they would work with my students. As an instructor there is no higher compliment.
Student accomplishments
From valedictorians and salutatorians I have had the privilege of teaching remarkable students that have received the Bill Gates Millennium Scholarship, earned full scholarships to universities, went straight to working as an EMT, and joined the military. The one thing they all had in common was they saw the program at Rancho as an opportunity to help them in their future, whether it will be in the medical field or not.
One former student was an EMT on campus at Penn State University. Another student joined the Army and helped a fellow recruit who had cut his wrists, crediting the skills he learned in my class with saving his friend's life.
A student from last year's class stopped at a motorcycle accident. The rider was thrown from his motorcycle and hit head and chest first into an oncoming car. The student's father passed away four years before in a motorcycle accident, but she was still able to take control of a scary situation and direct others what to do while she performed an assessment on the motorcycle rider.
Ramergency 911
A recent program addition, inspired by a nearby program, is having the EMT students run simulated 911 calls around the school's campus for a culminating project. With the support of local ambulance/transport companies — AMR, Guardian Elite Medical Services, MedicWest Ambulance, and Mercy Air — and our school's administration and staff we turn Rancho into a city and have the EMT students run calls in teams of two.
Each team is dispatched by a MedicWest Ambulance communications supervisor to two calls over a three-hour period. Students run the calls, transport the patients and give report to a receiving emergency nurse practitioner. Each student team was accompanied by a paramedic or EMT preceptor to assess and give feedback to the students after each call. The final call of the day was an auto versus pedestrian. A helicopter landed on campus to fly the patient to a hospital
Students learn that not all EMS calls go by the book and sometimes you have to think outside the box. The professionals that assisted with the day found the enthusiasm of the students refreshing and felt that this was a great teaching tool for students in any EMS program, allowing students to figure things out for themselves and even make mistakes in a controlled environment.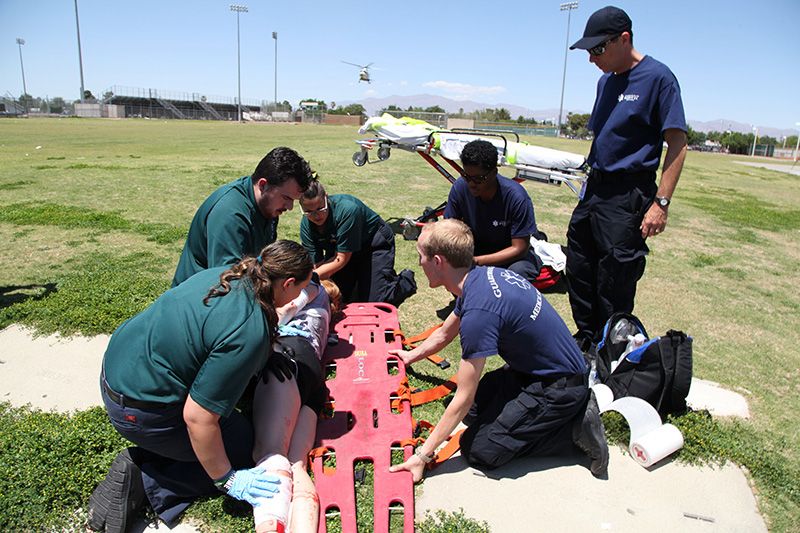 Ramergency 911 class of 2015. (Photo courtesy of Rancho High School)
Pathways to paramedics
Two years ago AMR and MedicWest Ambulance approached me and another instructor from another high school EMT program in Las Vegas to create a new program called Pathways to Paramedic. The first of its kind program gives our graduates a job and paramedic training. We hope this pilot program helps serve the EMS community in Las Vegas. If successful we are hoping other AMR organizations implement the program.
Future is bright
I am very proud of the EMT program at Rancho High School. Every year holds a new adventure and new possibilities in my classroom. Each EMT class is different, but also has many things in common. The students are passionate about education and making a difference.
I hear so many people say they are worried about the future of EMS and health care because of this generation of young people. What we often forget is we were all that generation at one time. Every day I see determination and passion in my students and know that we will be in good hands.
If you ever find yourself burned out or tired of running call after call, step into a high school EMT program and feel yourself renewed by the energy and excitement these students have to one day do the job you already do. Our door is always open. Come in and see what it's all about.
About the author
Shelly Kinnunen has been a teacher at Rancho High School for seven years. She also has 13 years of EMS experience, both in dispatch and as an AEMT, for MedicWest Ambulance in Las Vegas, where she continues to work during her summers off.