How to improve EMS instruction on pathophysiology
EMS students who understand pathophysiology are more likely to succeed on tests and in the field
---
LAS VEGAS — Although pathophysiology is critical for all EMS providers, it has historically been poorly or inadequately taught. "Teaching Pathophysiology," a full-day session at EMS World Expo, sought to bring EMS educators up to speed on pathophysiology and give them tips for integrating more of it into their education programs.
Instructors Daniel Limmer and Joseph J. Mistovich shared from their decades of experience teaching EMTs and paramedics, writing textbooks and articles and lecturing at conferences.
"As the toolbox of an EMT gets bigger the need to understand pathophysiology becomes much more important," Limmer said.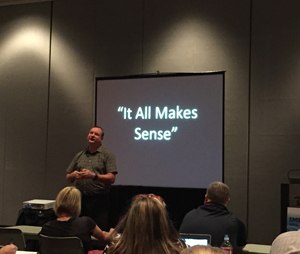 Promoting pathophysiology empowers students to understand clinical conditions and their signs and symptoms. The knowledge students gain of normal and abnormal impacts their ability to assess and treat patients, as well as achieve initial certification.
"If your students cannot think pathophysiology – understanding normal and abnormal – they are not going to do well on the National Registry exam," Mistovich said.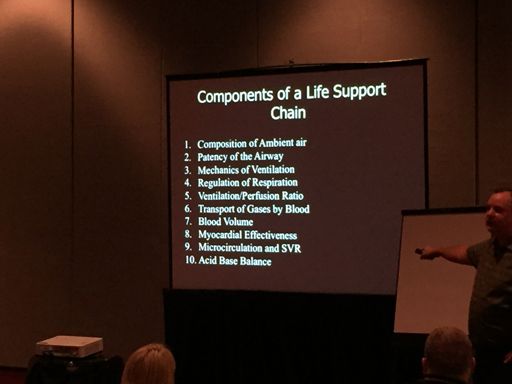 Joseph J. Mistovich teaches a course at the EMS World Expo. (Photo by Greg Friese)
Teaching pathophysiology, which has been included in the EMS Education Standards since 2009, prepares students to understand medical emergencies. "If students know some basic principles, like ventilation and perfusion, then they can figure out the signs and symptoms for problems like anaphylaxis and pneumonia," Mistovich said.
Mistovich shared a list of the "10 components of a life support chain", which he described as the primary topics he teaches in his pathophysiology course. "These are the things that a cell needs to survive. If cells survive then organs survive," Mistovich said. "If the organs survive then the body survives."
Some of the ideas Limmer and Mistovich shared for understanding and teaching pathophysiology included:
Answer a student's question with a question. What do you think the difference is? Do you think it matters for the patient? Is that normal or abnormal for the patient? Why do you think that is happening?
Relate students' questions back to a specific clinical condition. Mistovich gave this example to the group after giving some basic facts about the patient's presentation, "Why does a patient in a hyperventilation syndrome feel faint?"
Take students on a field trip to a skilled nursing facility to measure vital signs and collect histories on many patients. Discuss with students how each patient's medications and medical history is reflected in their vital signs.
Draw and diagram physiological processes as students describe them and then link the cellular process, such as perfusion, and how it impacts the patient's presentation, such as feeling faint.
Always challenge students to "figure it out" when they don't understand a patient's clinical condition setting the stage for career-long learning.
Limmer is a member of the EMS1 editorial advisory board and an EMS1 columnist.