Free COVID-19 EMS curriculum published
Daniel R. Gerard, MS, RN, NRP, developed and released the curriculum for free use by EMS organizations and agencies
---
By Laura French
WASHINGTON — A COVID-19 curriculum for EMS professionals has been developed and published for free use. 
Daniel R. Gerard, MS, RN, NRP, who is the vice president of the International Association of EMS Chiefs and EMS coordinator for the Alameda City Fire Department, created the curriculum and lesson plan to address the impact of COVID-19 on EMS and help prepare agencies for future pandemics.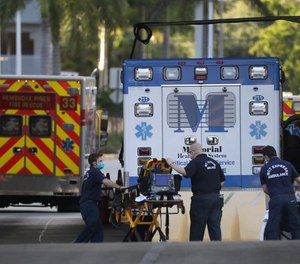 Gerard stated that the document can be freely used and adapted by agencies and organizations for EMT and paramedic education programs, continuing education, webinars, development of treatment plans and operational response procedures, but should not be used as the core of any program that charges a fee. 
"The intent is not to generate revenue during a global pandemic but instead to develop the requisite body of knowledge required for EMS providers; promote the free-flow of information between providers in all sectors of the healthcare continuum; to facilitate the ability of EMS providers to protect their staff; improve operations; and advance patient care," Gerard said in a statement. 
The lesson plan includes sections on epidemiology, presentation and prevention of COVID-19, EMS operations for COVID-19 response and transport, PPE use and decontamination, clinical course and treatment and crisis standards of care. 
See the full lesson plan below and download the updated document here: