Okla. governor signs law to protect EMS, hospital personnel from violence
The law increases the penalty for assaults and requires the annual reporting of all assaults to the state health department
---
Ronn Rowland
Muskogee Phoenix, Okla.
OKLAHOMA CITY — The state of Oklahoma took a step on Tuesday toward dealing with the increase of violence against people who work in hospitals and health care facilities. Gov. Kevin Stitt signed Senate Bill 1290, the Medical Care Provider Protection Act, into law.
Muskogee County District Attorney Orvil Loge said the law that has been needed for some time and not just in response to the coronavirus pandemic.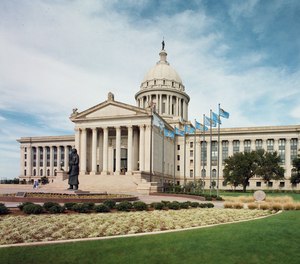 "I don't know if I've seen an increase in violence against health care workers during the pandemic," he said. "I've seen some cases in the past against health care workers that were pretty severe, causing severe injuries. That's just not something that (workers) anticipate whenever they sign up to treat people — that they're going to be assaulted."
Loge also said the law covers other first responders.
"It doesn't necessarily just cover the workers in the emergency room at the hospital," he said. "It does cover all health care workers, including ambulance workers — people who are responding to or treating somebody — that are in the health care profession."
Trish German, Muskogee County Emergency Medical Service public information officer, thinks is happy that lawmakers are protecting the front-line workers.
"We think it's great that people are standing behind us, that the governor's standing behind us," German said. "Workplace violence not only happens for EMS workers, it happens for every worker — people in the hospital — it can happen to any kind of business."
German, who has also been part of a response unit, has first-hand knowledge of what kind of protection this law brings.
"Many times I've been in the back of a truck and have gotten injured and hurt by my patients," she said. "I think it's an incredible thing that has finally been done for us."
Rep. Cynthia Roe, R-Lindsay, one of the co-authors of the bill along with Sen. Darrell Weaver, R-Moore, has 37 years of health care experience and is a nurse practitioner in Pauls Valley, where she has worked on the front lines during the state's COVID-19 response.
"In my career as a nurse and nurse practitioner, I have seen and experienced firsthand the violence that often faces our health care workers," Roe said. "Violent behavior from patients or visitors is a problem far too many medical professionals have been a victim of, and it unfortunately has caused many talented health care workers to pursue other careers. An estimated 75% of all workplace violence occurs in health care. I'm hopeful that the actions taken by the Legislature through this bill will cut down on this violent behavior and help keep our medical professionals safe."
Loge said he's glad the protection is now there for the workers.
"I'm happy the governor signed the bill into law," Loge said. "It provides more protection to our health care workers who are on the front lines every day. Sometimes they're defenseless against some individuals that they encounter treating who may be suffering from some mental issues and/or drug or alcohol abuse, and they take that anger or rage out on a defenseless health care worker."
The law goes into effect Nov. 1.
———
©2020 the Muskogee Phoenix (Muskogee, Okla.)
Read the full bill below:
McClatchy-Tribune News Service