Student advice: 7 ways to understand EMS traumatic stress
This is what it will take for a Ph.D. student undertaking research on the effects of traumatic stress exposure within EMS occupations
---
A psychology Ph.D. student asked the EMS sub-Reddit for help to better understand the EMS profession. Reddit user sandel23 is "looking to do my dissertation on the effects of traumatic exposure within EMS occupations" and wants to learn more about shift schedules, frequency to difficult calls, coping strategies and the most stressful aspects of the job to better design a research study.
I completed research methods at the dawn of the Internet age. But since I have a few thoughts, I am making myself an ad hoc member of sandel23's dissertation committee. Here is how sandel23 can understand EMS and the potential scope of traumatic stress.
1. Read stories from The Code Green Campaign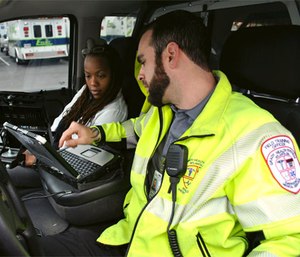 These very personal and often disturbing stories are written by EMS providers as part of an ongoing effort to break the silence about mental illness in public safety.
2. Talk to the traumatic stress experts
Several EMS providers have dedicated themselves to understanding traumatic stress in EMS. Schedule one-to-one phone interviews with representatives from:
I am sure this list is incomplete and there are other experts to seek out, but that is part of the scoping process and literature reviews for a Ph.D. student.
3. Complete ride Ambulance alongs
Use your status and credentials as an academic researcher to schedule ride alongs with fire-based and private EMS agencies. 911 emergency calls are great for seeing traumatic incidents and life-threatening medical emergencies that might trigger an acute traumatic stress experience.
But broaden your experience with chronic stress triggers by including ride time with an ambulance crew that spends its day taking renal failure patients to and from dialysis, discharging patients from the emergency department to home, and wandering the halls of a skilled nursing facility to find the paperwork for a direct admit sepsis patient. Find out how your community prepares and enables EMS to respond to high-frequency users with psychiatric illness. 
If time allows, spend eight hours sitting next to a 911 call taker in the city or county dispatch center. Listen in to calls — from the trivial to the fatal. While you are there, ask which homeless shelter calls for an ambulance most often. Then spend a day at the shelter trying to understand the needs of the patients in the moments before ambulances are called and observe how EMS providers respond to those patients.
4. Read about EMS from our strongest storytellers
Reading and digesting dozens of journal articles and several books a month is integral to the graduate school experience. A handful of books from EMT and paramedic authors will give you insights into shift length, traumatic things EMS providers see on the job and how some providers cope — or fail to cope — with the feelings of being the safety net for their community's under-insured and uninsured. Two of the best are:
Kelly Grayson's books, currently hard to come by are just as good, and you won't go wrong by reading any of the books Grayson recommends.
5. Talk to EMS providers who are victims of violence
If traumatic stress exists on a continuum of severity, violence is likely at the extreme. Patients routinely assault EMS providers. EMTs and paramedics are also attacked by co-workers, but those incidents are likely less frequently reported.
Any EMS professional who feels unsafe at work and in danger from their co-workers might be differently affected by traumatic stress than an EMS provider who feels emotionally safe — free from fear of bullying and harassment — and physically safe because of an intentional workplace violence prevention program.
6. Traumatic stress can be fatal
We are just beginning to understand the occurrence of suicide in public safety professionals. The Firefighter Behavioral Health Alliance is attempting to collect and verify the frequency of suicide, which may exceed line of duty deaths from all other causes combined. Perhaps your research will help us understand the scope of the problem, how traumatic stress is caused and how it is mitigated.
7. Report your findings on traumatic stress in EMS
Finally, keep us posted on your research design progress and research findings. Publication in a peer-reviewed journal is important. Even more noteworthy is returning actionable findings and recommendations to the profession you plan to study. Any Ph.D. candidate studying paramedics and EMTs is welcome to submit article ideas to editor@ems1.com.