N.J. EMT on transplant list since 2018 needs a kidney donor
The nonprofit EMS Gives Life is offering support to EMS providers who could help Reid Cappel
---
By Leila Merrill
HARDING TOWNSHIP, N.J. — New Jersey EMT Reid Cappel has spent his career helping people, and now he needs a kidney donor.
EMS Gives Life — a nonprofit that promotes, supports and facilitates organ donation within the EMS and first responder communities — can provide guidance to anyone who wants to see if they can help.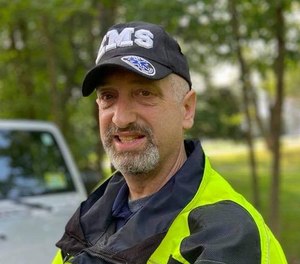 Cappel needs a living donor. He was born with one kidney, which has begun to fail. Cappel has been on a transplant waiting list since 2018.
Cappel has worked in EMS for more than 11 years. He is an EMT with the Atlantic Health System and a volunteer crew chief with the New Vernon Fire Department First Aid Squad.
The New Jersey EMT has a family, three dogs and a cat.
His wife, Darlene Cappel, wants someone to step forward.
"Please consider saving Reid's life! I can promise you that you will be saving a good person. Reid will give back and be a lifeline for others suffering from kidney failure," she said.
Reid Cappel said that his family members are very supportive, but none of them can donate a kidney.
Go to https://emsgiveslife.org/ems-help/reid/ to read more of Cappel's story. You can also get more information about donating in general, support offered by the organization of EMS professionals, and to see if you can help Cappel specifically.