FDNY unveils EMS Week 2018 poster
Fire Commissioner Daniel Nigro unveiled the poster, which promotes this year's "Stronger Together" theme
---
By EMS1 Staff
NEW YORK — FDNY unveiled a poster in celebration of National EMS Week 2018.
FDNY Fire Commissioner Daniel Nigro unveiled the poster, which demonstrates this year's "Stronger Together" theme with EMTs, paramedics and firefighters standing together, ready to respond to emergencies.
The poster features EMTs Kelly Canham and Cosmo Jackson, paramedic Mario Maldonado and firefighters Edil Montes Jr. and Andeudy Echevarria.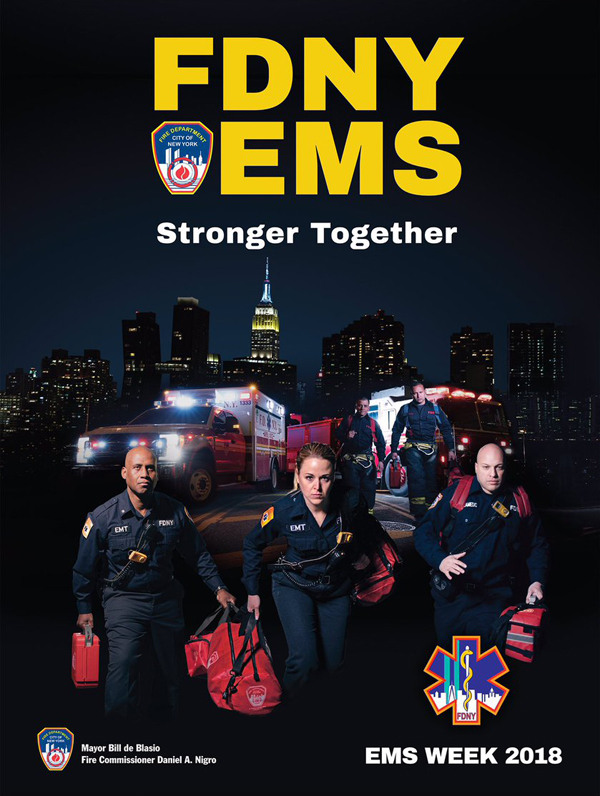 "The phrase 'Stronger Together' signifies unity amongst not only my partners and I, but the service as a whole. In EMS, we see things that the general public would never see in their lives. We are stronger together because we have each other to lean on when we face them," Maldonado said, according to an FDNY Facebook post.
Canham said EMS Week is "very important for the morale" of the agency.
"It shows appreciation for the hard work and dedication put forth by our members each and every day," she said. "EMS Week helps bring us together in a fun and positive way and reminds us that we are an extremely important part of the FDNY."
Nigro said "Stronger Together" is a "perfect theme, because we are always, without question, stronger together."