Ambulance services bring patients home for the holidays
AMR representatives offer tips for giving back by reuniting patients with their loved ones during the holiday season
---
By Ann Marie Triplet, Zach Ratner-Miller, Mary McAdams, Jim Pollard
Home is truly where the heart is. Anyone who has ever spent the holidays away from loved ones knows the longing to be with family. That is why, for many years, ambulance services around the nation have been helping warm the hearts of community members during the holidays by transporting carefully-chosen care facility patients to and from a relative's home at no charge. Many such programs are known as Home for the Holiday.
If your agency does not have a holiday tradition, American Medical Response (AMR) is offering advice on how to incorporate a similar program into your community outreach efforts.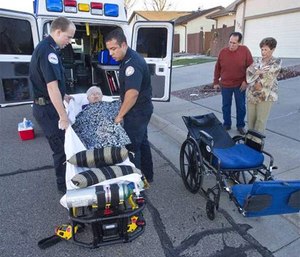 "Home for the Holiday is so rewarding for everyone involved – the crew, the patients and their family members, and the facilities' staff," said Jim Pollard, public affairs manager for AMR Central Mississippi in Jackson. His operation has conducted the program for 25 years. Pollard said that Home for the Holiday is a way for the AMR team to connect with patients, their families and the facilities under less stressful conditions. "This is one of the ways we give back. It's part of our calling. It's a fixture here. Our crews and facilities look forward to it every year." 
Home for the Holiday requires planning and careful While programs differ slightly for each AMR operation, AMR representatives agree that there are several key considerations when implementing such a program:
1. Foster strong and trusting relationships with care facilities
Zack Ratner-Miller supervises non-medical transports for AMR in Las Vegas. He says it is crucial to and maintain relationships with the skilled nursing facilities, and other care centers. His colleague and quality care coordinator, Annie Triplett, agrees. "Year-round, we visit our facilities, engaging with patients and collaborating with staff, just as most ambulance services do," Triplett said. "Home for the Holiday has been a part of the Las Vegas operations for 15 and it continues to be a mainstay in our facility relations efforts. Over the years, key facility staff members become familiar with Home for the and they gladly participate."
2. Plan, plan, plan!
For several AMR operations, preparation for the program begins a month or two the holiday on which the transports . For example, Pollard's operation conducts Home for the Holiday on Thanksgiving. He issues invitations to all nursing facilities in his service area at the beginning of October. Pollard says invitations should:
Clearly delineate program guidelines and patient eligibility requirements
Provide patients and families with an optional HIPPA release form in case of media interest in the project
Provide an optional media release for the patient or responsible party to sign
Send a news release about the project to news outlets 
3. Communicate clearly and frequently
Clear and effective communication is paramount when implementing any such program. Coordinating schedules and care responsibilities among four parties – the facility, family, AMR and the media – concise communication. Triplett said it is important to maintain transparency and constant communication with all involved, especially within your operations.
If a professional caregiver is not supervising the visit, emphasize that family members must be responsible for their loved one's care
Provide contact information and make yourself easily accessible
Let families know who to contact  in case of an emergency
4. Know your capabilities and your limits
You know how to run your agency. You know how many people and resources it takes to operate on a daily basis and how those demands shift during the holidays. Consider the kind of support patients require and whether you have the resources to accommodate those needs. Ratner-Miller dedicates a specific number of vehicles and crew members to the program. Meanwhile, others work the transfer schedules into the call demand that arises on the day of the project.
When implementing a similar program, start small. Try collaborating with one or two facilities or just doing a few. Also, consider whether you have the ability to provide a similar service for all holidays and celebrations or if it is easier to focus on one or two. Over time, you will understand what works for your team.
5. Screen patients carefully
The goal of Home for the Holiday is to bring patients and their families together safely and comfortably. Establish a set of criteria defining patient eligibility and requirements and consider the following:
Is the patient physically able to go to the family residence for the day?
Can the family take care of the patient for the duration of the visit?
Does the family have a bed or a safe sofa or chair for patients who must recline?
Does the patient require an ambulance, or can he or she travel in a wheelchair van?
Give preference to patients who rarely, if ever, have the opportunity to go to the family home. 
Give preference to families who cannot afford the cost of an ambulance or wheelchair van transport. 
6. Add a personal touch
AMR in San Diego has been offering Home for the Holiday for about 10 years. Mary McAdams, account manager, says that she always tries to enhance the patient's experience with personal touches. "The transition to a different environment is not always easy, so we try to ensure that the patient and the family are as comfortable as possible," she explained. "If time permits, I go to the facility to see patients off. I will also bring flowers, a favorite treat or another gift to help make their day a little extra special."
AMR team members are happy to participate. They say, given the often-tense nature of their work, it is nice to be able to spread some holiday cheer. And, while AMR operations all throughout the country have been transporting patients home during the holidays for years, they want other operations to join them in providing community members safe, joyful and memorable holidays with their loved ones.
About the authors
Ann Marie Triplet and Zach Ratner-Miller are coordinators, AMR Las Vegas. Mary McAdams is coordinator, AMR San Diego. Jim Pollard is coordinator, AMR Jackson Miss.
This article was originally posted Sept. 27, 2017. It has been updated.