Unique EMS training opportunity: The Center for Domestic Preparedness
Complete with a mock community and former hospital, the CDP gives responders the opportunity to train on emergency and disaster response
---
I recently had the opportunity to travel to Anniston, Ala., to take a course at the Department of Homeland Security's Center for Domestic Preparedness (CDP). Having traveled to Emmitsburg in the past to attend the National Fire Academy, I was expecting a quaint little campus with a few classroom buildings and public safety leaders sitting down together to take in great learning opportunities.
It turns out that there is a great deal of learning going on, but it is far from just classrooms and PowerPoint presentations. While NFA offers valuable leadership training, the CDP is focused on hands-on training for a wide variety of public safety professionals.
The CDP boasts that it is "committed to having an emergency response community prepared for and capable of responding to all-hazards events." To achieve this, the Center provides preparedness, protection and response training to 17 disciplines including EMS, emergency management, public health, law enforcement, public works, search and rescue, and healthcare.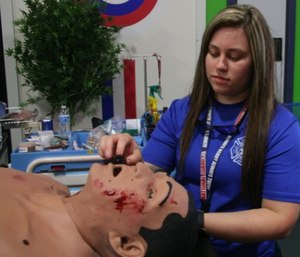 The CDP is a 176-acre sprawling campus formerly housing the United States Army's Fort McClellen Chemical School. When the military base was scheduled for closure back in 1995, some visionary leaders developed a plan to provide similar training opportunities to civilians and the Center for Domestic Preparedness was born.
The CDP is comprised of four core facilities including the Main Training Facility; the Noble Training Facility; the Chemical, Ordinance, Biological and Radiological Training Facility; and the Advanced Responder Training Facility. The Noble facility was a working hospital for Fort McClellen and remains a fully-equipped mock-hospital today with an emergency department, in-patient floors, intensive care unit, ancillary departments, isolation rooms and an incident command center.
The Advanced Responder Training Facility contains portions of a mock community allowing public safety providers to respond to a wide variety of scenarios in settings mimicking scenes they might encounter if a disaster struck their community.
Specialized EMS training
A quick glance at the CDP catalog shows they offer over 70 courses with specialized training for man-made threats and natural disasters, including:
Biological incidents awareness.
Framework for healthcare emergency management.
Improvised explosive device explosive effects mitigation.
Field force command and planning.
Technical emergency response training for CBRNE incidents.
Personal protective measures for biological events.
I have also heard great reviews about a set of courses that come together at the end of the week for a coordinated exercise. The Healthcare Emergency Response Training for MCI, Healthcare Leadership for MCI and Emergency Medical Operations for CBRNE Incidents classes spend part of the week learning their respective curricula and then all play their respective roles in an Integrated Capstone Exercise at the end of the week.
During the ICE, the CDP has a cadre of mock patients descend on the Advanced Responder Training Facility and the Noble Training Center. They are all sick, injured, contaminated or the worried (and sometimes hysterical) well. EMS, hospital responders and healthcare leadership then manage all aspects of the emergency response and surge of patients.
EMS training from director to provider
All the courses are conducted as "resident" classes in Anniston at the CDP free of charge to most providers. In many cases, your travel, food and housing are also paid for through the Department of Homeland Security.  Additionally, the CDP can take some of the courses on the road to bring them to your state, region or local jurisdiction.
My trip was to attend a newer course targeting healthcare coalition leadership. As guidance from the federal government directs local, regional and state healthcare assets to work together in healthcare coalitions, the CDP identified a training need and met it.
Attending a resident course is easy and well worth the effort. Once you identify a course that interests you, simply pick a date you would like to attend and submit an application. If you are accepted into the class, the CDP staff will work with you to make travel arrangements and they will send you all the details needed to prepare for and attend.
Once on campus, the CDP does a great job hosting students. Former military barracks have been updated and provide private rooms for each student. Full-menu cafeterias are available in the student housing complex as well as in each training center, minimizing the need to shuttle back and forth for lunch.
After a long day in training, you will need to wind down a little, and they have that covered too. Evening recreation options include:
Bikes to check out.
Shuttle service to town.
Basketball courts.
An updated work-out facility.
A base bar.
This well-organized operation serves over 50,000 students every year. Whether you are an EMS service director, training officer or street provider, check out more details about the training opportunities at the Center for Domestic Preparedness and apply for a course today.