Is there a space medic on board?
Commerical space flight is a new medical frontier for paramedics to treat the ill or injured and bring lessons back to earth
---
Richard Branson, the famous British entrepreneur and philanthropist, and five of his Virgin Galactic employees rocketed into space on July 11. A short highlight video, embedded below, shows how they launched from another plane, reached an altitude of 50 miles above the earth, and then experienced a few minutes of weightlessness before gliding in for a safe landing.
The flight of Virgin Galactic's SpaceShipTwo, the V.S.S. Unity., and the upcoming launch of Jeff Bezos, the Amazon founder and retired CEO, aboard the Blue Origin New Shepard rocket later this month has us on the cusp of space tourism and commercially available space flights for individuals able to pay for the $250,000 ticket.
Space tourists will need medical personnel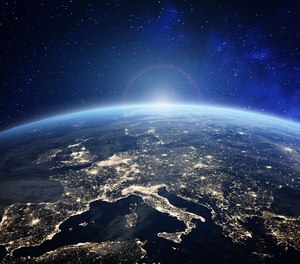 Ever since Dr. Bones cared for the crew of the USS Enterprise NCC-1701, it has been clear that the crew and passengers of spaceships will need medical attention. Branson and company, playfully bouncing around the interior of Unity, make it clear that life will soon imitate art. Here are a few of the space flight injuries and maladies that are sure to present to a Virgin Galactic space paramedic soon:
Nausea and vomiting due to motion sickness. Imagine offering to treat a passenger's nausea with a $0.10 alcohol prep pad after they spend a quarter-million dollars on a flight to the edge of space.
Aches and pains from bouncing around the cabin and into one another. Space force medics are likely to hand out a lot of ice packs and splint an ocassional extremity injury after re-entry, once the adrenaline-fueled frenzy from weightless gymnastics wears off.
Hyperventilation secondary to anxiety. Space travelers of my generation are likely to remember Ren and Stimpy's bout with "space madness" as they hurtle through the upper atmosphere. Hyperventilation treatment will mostly be encouragement to slow breathing and relax, and a reminder to the patient that way more thrust is needed to escape the clutches of gravity.
Get Branson in an ambulance
One of the reasons Branson was aboard Unity was to experience the product his company is selling, reminding me of the EMT empathy-building exercises to be lifted, immobilized and splinted from head to toe so we could "experience what our patients feel." Descending a long flight of stairs in a stair chair or riding backwards on the patient cot with sudden stops, sharp turns and rapid acceleration are equally important empathy building exercises for any EMT and paramedic.
If your jurisdiction includes one of Branson's five homes, invite him for an ambulance ride. No, not to replicate the feeling of weightlessness induced on that one stretch of country road with the bumps and dips. Instead, look to Branson to share design ideas that we can use to make ambulances safter for providers and patients. Those improvements might include:
More windows. SpaceShipTwo passengers gazed back at earth through 12 "Halo" windows. More one-way ambulance windows might help some patients relax and bring more natural light into the confines of the patient care compartment. For an added touch of comfort, each halo window is surrounded by LED lights "to subtly reflect back and therefore elevate, the human responses to each of the contrasting stages of flight." Yes, please, to better lighting and mood lighting in the ambulance.
6-point restraints. The SpaceShipTwo looked to experience less turbulence than a typical interfacility transfer, yet everyone was securely fastened to a forward-facing seat with a 6-point restraint. Branson's design team likely has some ideas on how to better secure the ambulance crew while they continue to deliver patient care.
Eye protection. From the Ray-Ban Aviators Maverick wears between Top Gun flights to the black wraparound sunglasses worn by Branson, pilots and astronauts always have the coolest looking eye protection. EMS personnel should don eye protection on every call to protect from potentially infectious material.
Space medic suit. Under Armour, the "exclusive technical spacewear" partner to Virgin Galactic, needs to bring the lessons of space travel technical wear to the streets. Every medic, especially during extreme heat events, is looking for a uniform that breaths better, fits like a space suit and looks great.   
Add "awe and joy" to the treatment plan
Splinting, medications and even transport are among the hundreds of prehospital treatments you can provide to your patients. Watch the Unity highlight video to see the genuine awe and joy of the passengers when they experience weightlessness. You may not be able to bend to the laws of gravity during your next transport, but your knowledge, skill, caring, compassion, attentiveness, good natured humor and empathy are likely to leave patients and their loved ones with a sense of awe and joy. As Branson says from his seat 50 miles above earth, "To the next generation of dreamers, if we can do this, just imagine what you can do."