Create barriers between patients and medical errors
Implementing a medication administration cross check helped St. Charles County Ambulance District reduce dosing errors and win recognition for its Just Culture
---
Recently, the Center for Patient Safety awarded St. Charles County Ambulance District with the EMS Patient Safety First Award. The Center for Patient Safety cited SCCAD's establishment of a Peer Review Committee, development of a safety plan involving all staff, and the adoption of a Just Culture as rationale for the selection. The group also lauded the implementation of the medication administration cross check as a measure to reduce dosing errors.
EMS providers are at increased risk for medication error due to the emergency nature of their work, environmental conditions and time pressures. Providers work long hours, and fatigue often plays a role. In 2014 in "Prehospital Emergency Care," Lammers et al. published a simulated study on the treatment of pediatric anaphylaxis. Fifty percent of providers gave incorrect doses of epinephrine. The root causes for these medication dosing errors were identified as:
Weight estimation errors
Incorrect recall of doses
Inaccurate references
Calculation errors
Dose estimation errors
Communication errors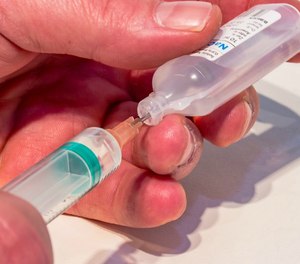 The medication administration cross-check was first designed and implemented by the Sedgwick County, Kansas, EMS System in 2012. It was developed by Dr. Sabina Braithwaite (medical director for the Sedgwick County EMS System at the time), Captain Paul Misasi and Major Jon Friesen of the Wichita/Sedgwick EMS System.
Cross-checking the 6 rights of medication administration
Most providers are familiar with the six rights of medication administration. The sixth right of safe medication administration – the right documentation – is frequently used as a guidepost, and provides the basis for the medication administration cross-check. It is a simple, two-provider verbal procedure, which requires the providers to confirm the planned:
Drug name
Dosage
Administration route
Administration rate
Rationale for administering
Contraindications (or lack thereof) are considered as a second step by both providers. Next, providers confirm volume or quantity to be administered. Finally, they concur and provide dual positive visual verification for the drug concentration and volume (or amount) to be given before administering it to the patient.
The medication administration cross-check contains error traps and provides a barrier between errors and the patient. This method creates a pause point before the medication is given. It takes a minimal amount of time to complete and is easy to do once practiced.
In a 2013 research project performed on the effectiveness in reducing errors of the medication cross-check, Sedgwick County's Misasi, Keebler and Braithwaite reported providers who verified the rights of medication administration verbally reported 50% fewer medication errors when administering a drug.
SCCAD rolled out the medication administration cross-check with permission from the Sedgwick County Kansas EMS System in 2014 as a preventative measure and to foster a more Just Culture. Leadership recognized the need to implement system measures to help avoid errors. The intent for implementing this procedure is to protect patients from harm and providers from the stress of making errors.
Since implementation in 2014 in the SCCAD system, the medication administration cross-check has become a part of policy and is to be used for every patient, every medication, every time. New providers in the system receive initial training and seasoned paramedics receive continuing education on the cross-check. The cross-check procedure is included as a component each time training is rolled out on any new protocol.
It has undoubtedly prevented medication errors from making it to patients and helped our district progress in our journey to become the safest system possible.

Read more
Prevent EMS medication errors with checklists and job aids
Most EMS providers have witnessed or been involved with a medication error attributable to poor system design and lack of safety behaviors
This article was originally posted June 3, 2019. It has been updated.