W. Va. county reports 144 overdoses and four deaths in the last six months
Organizations are combating overdoses with outpatient treatment, medication-assisted treatment, and inpatient residential treatment
---
By Greg Jordan
Bluefield Daily Telegraph, W.Va.
PRINCETON, W. Va. — Mercer County's law enforcement agencies and rescue squads recorded 144 drug overdose cases – four of them fatal – between January and June this year, the Mercer County Commission was told Tuesday.
Representatives of Southern Highlands Community Mental Health and Community Connections, Inc. spoke during the commissioner's July meeting about the county's drug situation.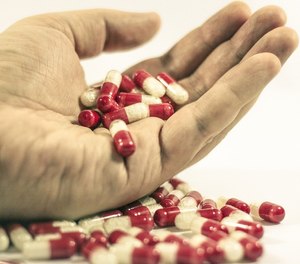 "It was to update the county commission on basically what the whole drug scene is looking like in the county," Lisa Jones, CEO of Southern Highlands, said. "The county has been really supportive. They've helped with letters of support for different types of grants to treat the substance abuse problem. We had the report to show them how successful we've been. We're certainly not perfect, but we're doing a good job combating this problem."
Since Jan. 1 this year to June 30, Mercer County has had 144 reported overdose cases; four of those cases resulted in death, Jones said. The figures were compiled by the local Quick Response Team which is made up of EMS personnel and law enforcement as well as Southern Highlands. The Recovery Point organization has helped with the team, too. The goal is to seek overdose victims anywhere from 12 to 72 hours after the overdose so they can be guided toward treatment options.
Some addicts relapse as many as seven times before they are able to get out of the drug culture, Jones said.
"As long as they're alive, there's hope," she added.
Jones and Barbara Bailey, project director of the Rural Health Opioid Program for Community Connections, Inc., told the commissioners about the substances – illegal and legal – linked to local overdoses.
About 44% of the county's 144 overdoses involved illicit drugs. Heroin was connected to 44% of these overdoses, followed by methamphetamine at 42% and cocaine at 14%.
Legal substances like opioid pain medications accounted for 56% of the county's 144 overdoses, Jones said.
Jones and Bailey also broke the overall overdoses down by age.
Of the 144 overdoses, about .8% of them were among people 17 years old and younger, Bailey said. Another 13% were among people 18 to 25 years old. Fifty percent occurred with people 26 to 40 years old, and 30.5% occurred among people 40 years old and older.
Bailey said 62% of the overdose victims were male and 38% were female.
"That's the best reporting we've ever had, but there are still some overdoses that it does not capture...overdoses that aren't reported and overdoses that occurred before some of the reporting systems were in place." Bailey said of this year's overdose figures.
Other southern West Virginia counties have seen large numbers of overdoses and overdose deaths. According to County Health Rankings and Roundup, a collaboration of the Robert Wood Johnson Foundation and the University of Wisconsin Population Health Initiative, 2015-2017 data showed Mercer County had 114 overdose deaths. McDowell County had 50 and Monroe County had 10. Raleigh County had 163 overdose deaths and Fayette County had 58.
Between 2001 and 2015, a total of 7,209 people died from overdoses in West Virginia, according to the 2016 West Virginia Overdose Fatality Analysis compiled by the state Department of Health and Human Resources.
In 2015, West Virginia led the nation in overdose deaths, with 41.5 deaths per 100,000 individuals in the population, according to the report. In comparison, the second-highest state, New Hampshire, had a rate of 34.3 per 100,000 people.
"Among all overdose deaths that occurred in West Virginia, including non-residents who died in the state, most deaths involved at least one opioid, and the percentage of overdose deaths involving an opioid increased from 70% in 2001 to 87% in 2015, according to the DHHR report. Since 2014, the percent of overdose deaths involving fentanyl grew from 9% in 2014 to 41% in 2016, a nearly five-fold increase.
In Mercer County, organizations like Southern Highlands and Community Connections are combating overdoses with outpatient treatment, medication-assisted treatment, and inpatient residential treatment. In one program, LEAD (Law Enforcement Assisted Diversion), law enforcement officers refer addicts who have been arrested to treatment programs. The Quick Response Team, which includes a social worker, EMTs, and law enforcement visit overdose victims along with a recovery coach with the goal of getting them into treatment, Bailey said.
"We also have Recovery Point, the Fellowship Home, and Highland House for woman in Bluefield," Bailey said. "There are a couple of other programs in development for transitional living and mothers and babies."
Jones said the goal is to get addicts back into the community and focused on family and work instead of the drug culture.
"That's our real goal. We want to replace that drug behavior with better behavior," she said. "We're also trying to provide treatment on demand."
Southern Highlands can be reached at 304-425-9541.
County Commissioner Greg Puckett said that by working with Southern Highlands, the county has saved about $200,000 on its regional jail bill by getting addicts into treatment.
County Commission President Gene Buckner said he has seen the results of addiction treatment. He knew of one woman who graduated from a Mercer County Day Report Center program and called it "the best thing that ever happened to her."
Reporter Emily Coppola contributed to this report.
———
©2019 the Bluefield Daily Telegraph (Bluefield, W.Va.)
McClatchy-Tribune News Service