Falck plans to have paramedics flying in drones by 2025
Falck has begun test flights of remotely-controlled drones and is working toward drone flights with medics on board within the next five years
---
By Laura French
DENMARK — Ambulance company Falck has announced that it plans to have paramedics flying in drones for emergency response by 2025. 
The Denmark-based company, which operates ambulance services in Europe, the United States and Latin America, said in a press release that it has started test flights of remotely-controlled drones and is working to establish a partnership with a technology company to carry out drone flights with paramedics on board within the next five years.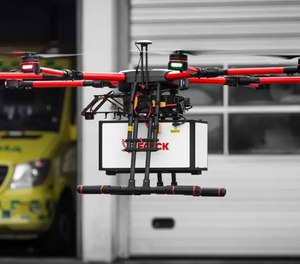 "It is a general assumption that drones will be one of several new ways of transportation no later than 2030. How we create more value from the new technology is an option question," Falck President and CEO Jakob Riis said in a statement. "Does the value lie in faster response time to e.g. patients with cardiac arrest so we can save and improve more lives? Does the value lie in better help to remote areas? Does the value lie in being able to treat more patients at home? Or in reducing the number of ambulance trips and thus save staff and money? We don't know today, but now we will start to look into how the drone technology can and cannot be used." 
The company stated that it is in dialogue with several leading drone suppliers to find a technology partner that will help develop the paramedic-piloted vehicles. Falck previously partnered with Holo and Odense University Hospital as part of the "HealthDrones" project, which investigated how drones could be used to transport supplies such as blood samples and medical equipment. That partnership began in 2018 and will continue until 2022.