Dispatcher takes call about fire that destroyed her own home
Dispatcher Barbara Hughes was working when she took a 911 call reporting a blaze in the area where she lives
---
By Margaret Matray
The Virginian-Pilot
SUFFOLK, Va. — A Suffolk dispatcher's home was destroyed — and her three dogs killed — in a fire that broke out in the early morning hours Thursday.
Dispatcher Barbara Hughes was working when she took a 911 call reporting a blaze in the area where she lives. She dispatched the call herself before rushing to the scene, according to a Suffolk Police Department Facebook post and a GoFundMe page set up for Hughes.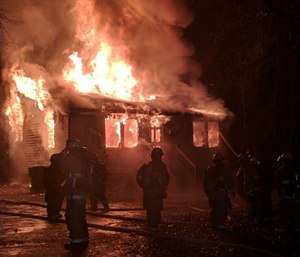 Shortly after 1:30 a.m., fire crews arrived to a "fully involved" fire in the 3100 block of Indian Trail at the corner of Deer Path Road, according to a city news release. The fire was deemed under control a little less than an hour later.
The Fire Marshal's Office is investigating the cause.
Hughes was being assisted by family, and a GoFundMe page was set up to raise funds to assist her. She could not be reached for comment Thursday.
Copyright 2019 The Virginian-Pilot
McClatchy-Tribune News Service