At least 3 dead as Zeta sweeps through Gulf Coast
The tropical storm made landfall in Louisiana as a Category 2 hurricane on Wednesday, leaving three people dead in three different states
---
KATE FELDMAN
New York Daily News
NEW ORLEANS — Zeta has been downgraded to a tropical storm after making landfall as a Category 2 hurricane in Louisiana Wednesday, but the record-breaking storm has already left at least three people dead.
A 55-year-old New Orleans man was electrocuted to death Wednesday afternoon when he touched a live wire in the flooded Gert Town neighborhood, Mayor LaToya Cantrell announced at a press conference. Paramedics, who had to wait for officials to turn off the power to the area before they could reach the man, pronounced him dead at the scene.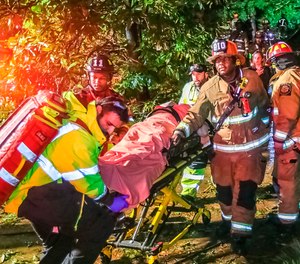 "We do not want to lose another life," Cantrell said. "It's unnecessary."
Leslie Richardson, 58, drowned in Biloxi, Miss., while recording video of the storm coming ashore to send to his sister, according to the Sun Herald. When he got back in his car to try to leave, he realized the water was too deep and called 911, but left the car before they arrived.
A guest at a nearby hotel spotted Richardson as emergency responders searched for him, but he was pronounced dead.
And in Georgia, a man was killed when the storm knocked a tree onto his Cherokee County mobile home, according to the Atlanta Journal-Constitution.
Almost 2 million people are without power Thursday morning.
Zeta remains a tropical storm as of the National Hurricane Center's 8 a.m. update Thursday as it continues to sweep across the southeast with winds up to 60 mph. The storm's center currently sits about 50 miles west of Asheville, North Carolina.
Despite the decreased intensity, forecasters warned that "damaging" winds will continue into northern Georgia, western South Carolina and western North Carolina. Heavy rainfall will drag into Thursday in the middle Ohio Valley and tornadoes are still possible in the Carolinas and southern Virginia.
___
(c)2020 New York Daily News
McClatchy-Tribune News Service