Pa. EMTs get tips on dealing with dementia patients
Centre LifeLink EMS responds to calls involving Alzheimer's disease or some other form of dementia almost daily
---
By Frank Ready
Centre Daily Times
STATE COLLEGE, Pa. — It happens more often than you'd think.
Anthony Calvo or other first responders from Centre LifeLink EMS will hop in an ambulance and travel to the scene of a call, only to be met with confusion, resistance and sometimes even anger by the person they were sent there to help.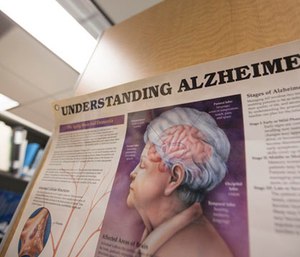 Eventually he might gain the patient's trust — or simply wear them down — and persuade he or she to get in the ambulance.
"They might say, 'I don't know why I'm going, I didn't do anything wrong,' " Calvo said.
No they didn't.
On Tuesday morning, Calvo and a small group of other first responders attended a presentation by Erica Vezza, the community outreach coordinator with Home Instead Senior Care.
They did so in the hopes of seeing Centre LifeLink join the ranks of the YMCA of Centre County and T & B Medical Inc., on a growing list of Alzheimer's friendly businesses.
"We're really trying to put the family caregiver in the spotlight," Vezza said.
That's because the family caregiver is the target audience.
At the end of the day, Calvo and company get to go home, but for others who have daily encounters with Alzheimer's disease, that's one of the most stressful places they can be.
Home Instead trains caregivers to go into the residence of someone with dementia and provide onsite support, whether that be bathing, meal preparation or even some light housekeeping.
It's a concept with obvious appeal — especially for friends or family members who may need a break from dealing with the day-to-day responsibilities of caring for someone with dementia.
Calvo said that EMTs from Centre LifeLink respond to calls involving Alzheimer's disease or some other form of dementia almost daily. The odds were in their favor — according to Vezza's presentation, one in nine Americans age 65 or older has Alzheimer's or a related dementia.
The symptoms present differently depending on the patient. Managing them can require patience and a thick skin, enough to endure being asked the same question over and over again or getting verbally skewered.
"Sometimes they're pretty vocal about how they don't like you," Calvo said.
Vezza's presentation provided plenty of helpful hints on how to diffuse those kinds of situations, from refusing to engage in an argument to asking questions that can be answered with a simple "yes" or "no."
No matter how difficult any given interaction may become, there may be one thing above all else that's important to keep in mind when dealing with a loved one in the grip of dementia.
"This is not their personality, that's the disease," Vezza said.
Copyright 2016 Centre Daily Times
All Rights Reserved