The Delta variant: What providers should know about the 'fastest and fittest' COVID virus
As the Delta variant accelerates in the U.S., first responders should be aware of the differences in the latest strain
---
Cities across the country are reporting a rise in the number of positive COVID-19 cases, with most cases identified as the latest and most transmissible variant of the virus – the Delta variant.
First discovered in India in December 2020, the B.1.617.2. mutation, or Delta variant, swiftly spread through Great Britain earlier this year, and is is now the most dominant COVID-19 strain worldwide.
The World Health Organization called the Delta variant the "fastest and fittest" version of the virus so far, and F. Perry Wilson, MD, an epidemiologist at Yale Medicine, said he expected it to "accelerate the pandemic."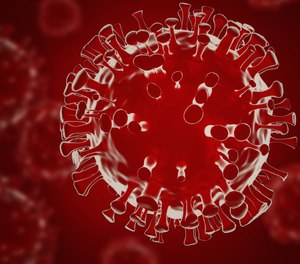 What should first responders know about this latest strain and how will it impact readiness at an organizational level?
1. The Delta variant is more contagious the previous strains.
In early 2020, news coverage of the original COVID-19 strain discussed the potential for exponential spread of the virus, meaning one infected person could potentially infect two others, who could then go on and infect increasing numbers of individuals.
In the same environment, the Delta variant can be transmitted to up to four individuals within the same timeframe.
"Because of the math, it grows exponentially and more quickly," Wilson said. "So, what seems like a fairly modest rate of infectivity can cause a virus to dominate very quickly – like we're seeing now. Delta is outcompeting everything else and becoming the dominant strain."
2. Unvaccinated people are most at risk from the variant.
Hospitals in the U.S. are reporting an increase in the number of positive COVID-19 cases, with the majority being unvaccinated individuals, though some breakthrough cases of vaccinated individuals are being reported, as well. However, vaccinated patients who contract COVID-19 – any strain – have shown to be able to stave off severe illness better than unvaccinated patients.
Among those currently hospitalized with COVID-19 complications, 97% are unvaccinated, according to Dr. Rochelle Walensky, director for the Centers for Disease Control and Prevention.
Areas with low vaccination rates could see "hyperlocal outbreaks" that stress EMS and hospitals due to the variant's increased ability to spread throughout the population, according to Wilson.
In a recent speech, President Joe Biden called the current public health situation a "pandemic of the unvaccinated."
Resources:
EMS leaders should keep a close eye on the COVID-19 positivity rate, as well as the number of vaccinated residents in their service area, to determine staffing levels.
Unvaccinated providers are also at a higher risk for contracting the Delta variant from affected patients due to its high transmissibility.
Resources:
3. Vaccinated individuals can contract the Delta variant, but typically have fewer or no symptoms. 
A recent UK study of vaccine efficacy against the Delta variant found that two-shot doses of the COVID-19 vaccine were highly effective in preventing serious illness from the strain, as long as both shots were received.
However, breakthrough cases have been identified, though vaccinated individuals tend to have mild symptoms and are much less likely to need medical intervention. Those who are vaccinated and hospitalized with the Delta strain typically have an immune system complication that makes them more vulnerable, such as cancer or being an organ donor recipient.
---

Read more
How can I protect my family from COVID-19?
When working from home isn't an option: download a checklist for reducing the risk of transmitting exposure after returning from a shift
---
Unlike the two-shot Moderna and Pfizer vaccines, the one-shot Astra-Zeneca vaccine available in Europe was found to be only 33% effective at preventing symptomatic illness from the Delta variant, the New York Times reported. Epidemiologists believe individuals who receive one-shot doses of the vaccine, like the Johnson & Johnson version in the U.S., will eventually need boosters to up their virus immunity.
4. Pediatric cases of COVID-19 are on the rise.
Currently, COVID-19 vaccines are only available to those ages 12 and up, leaving younger children vulnerable to any version of the virus they encounter. Due to the Delta variants high transmissibility, experts are concerned this could lead to a massive outbreak.
"This variant is spreading like wildfire," Dr. Jim Versalovic, pathologist-in-chief and interim pediatrician-in-chief at Texas Children's hospital told NBC News. "That means we have to be extra careful among those who are unvaccinated and partially vaccinated. We're very concerned about children under 12 who have no access to the vaccine right now."
The Amercan Academy of Pediatrics (AAP) recently recommended that all public school children over the age of 2 wear masks for the upcoming school year. 
Resources:
"As we start the 2021-'22 school year, a large portion of students are not eligible to be vaccinated and there are COVID variants that are more contagious," Sonja O'Leary, M.D., FAAP, chair of the AAP Council on School Health Executive Committee, said in a recent AAP publication. "Because of this and because we want to have all students in school, the AAP advocates for all students, teachers and staff to wear masks while indoors in school." 
---

Read more
Breakthrough COVID-19 cases and the game-changing Delta variant
What first responders need to know about the likelihood of side effects from the vaccine vs. the virus, plus new infection rates