Mo. governor deploys ambulance strike teams across state
Gov. Mike Parson announced that 30 ambulances and more than 60 personnel would be strategically dispersed to five regions of the state
---
By Rachel Engel
KANSAS CITY, Mo. — The Missouri governor is deploying ambulance strike teams to assist hospitals across the state as the Delta variant surges.
In a press release on Friday, Gov. Mike Parson announced that 30 ambulances and more than 60 trained providers will be sent to five different regions to assist with transports, as part of a FEMA request.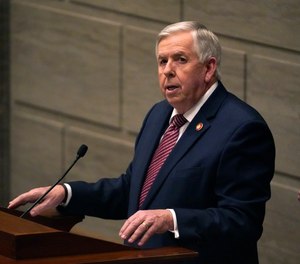 "The ambulance strike teams we positioned in Springfield have been extremely effective in helping save lives and ease the pressure on local hospitals," Parson said. "These 30 new ambulance teams triple our transport capacity and expand it to the entire state, as needed. Our health care professionals are performing heroically to save lives as the Delta variant dramatically increases hospital admissions. We will continue to support our health care heroes across the state."
The 30 teams include 20 ALS rigs, five BLS rigs and five specialty care ambulances.
"Delta is the most aggressive and transmissible variant of COVID-19, and it is more important than ever to take advantage of the highly effective vaccines," Parson said.