Ky. FFs struggle to get COVID-19 tests, workers' compensation
Union representatives say quarantined firefighters are being denied workers' compensation because it's too difficult to prove they were exposed through work
---
Beth Musgrave
Lexington Herald-Leader
LEXINGTON, Ky. — Kentucky firefighters say they struggle still to get COVID-19 tests and don't get workers' compensation for missed days while self-quarantining or waiting for test results.
Louisville Mayor Greg Fischer announced Tuesday a Louisville firefighter was the first to test positive for the coronavirus. The man is self-isolating at home, Fischer said.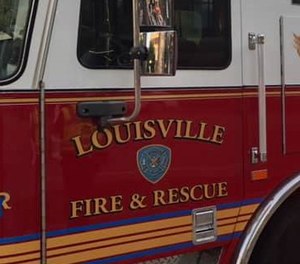 But the firefighter was fortunate.
He got tested almost immediately because of a relationship with a physician who waived the Centers for Disease Control guidelines restricting who can be tested due to limited test kits available nationwide, said Joe Baer, the president of the Kentucky Professional Firefighters Association. The group represents 44 unions and 3,000 professional firefighters statewide.
"The lack of testing has created issues and, in some cases, delays," Baer said. "We've had six tested that I know of so far." Only one has tested positive.
The majority of paid firefighters in Kentucky are also emergency medical responders — EMTs and paramedics that staff ambulance units.
First responders are worried that if firefighters can't get tested soon after exposure, the coronavirus could spread easily throughout a department, decreasing the number of ambulance staff available to treat patients during the pandemic. Furthermore, patients and other medical staff could get sick.
That's what happened in New Orleans. Of the 170 emergency medical employees, 94 have been exposed to the virus and at least 28 have been asked to quarantine, according to media reports. Similar problems with possible widespread exposure of emergency medical personnel occurred in other places, including the state of Washington, Baer said.
"They live together 24 hours a day," Baer said. "If someone is symptomatic, you send them home and hopefully get them tested. Ideally, all of the people on the crew that they served with would also be tested. Unfortunately, we are just not at that place yet. But more testing labs are coming on daily."
Because of the delay in getting tests, some firefighters were off for weeks waiting for test results. Others were quarantining themselves for 14 days after a suspected exposure if tests weren't available.
Gov. Andy Beshear ordered Kentucky Employers Mutual Insurance, or KEMI, which is one of the largest providers of workers' compensation in the state, to grant workers' compensation for first responders if they have to self-quarantine after a possible exposure. Firefighters and police applauded Beshear's order.
But there have been hiccups.
"They are being denied," Baer said of the workers' compensation claims. Typically, to prove a work-related injury, people have to show how they were exposed to the virus on the job. But given the limited tracing capabilities of most public health departments as the COVID-19 pandemic has spread, that's nearly impossible for a firefighter to do, he said.
Baer said it's not clear how many workers' comp claims have been denied because the situation is fluid and changes daily.
There was a firefighter in Jefferson County — not a member of the Louisville Fire Department — that was out of work for 14 days while he waited for tests to be completed, Baer said. He tested negative. But he missed a lot of work.
Baer said representatives were working with Beshear's office to try to get the order amended to make anyone who has been tested or has quarantined after possible COVID-19 exposure automatically qualify for workers' compensation.
Lexington firefighter Kevin Pletzke, president of the Lexington Professional Firefighters Local 526, said he is not aware of any city firefighter who has been tested.
The fire department had one patient that was suspected to be ill from the new coronavirus. Firefighters wore personal protection equipment during that ambulance run. They did not require testing, he said.
But Pletzke and other firefighters say they were also trying to get the word out about a federal act that requires hospitals and other medical providers to notify first responders if a patient they had recently treated later tests positive for COVID-19.
That hasn't been happening.
"There was a lot of confusion about this early on," Pletzke said of the notification requirement and whether it applies to COVID-19 cases. The U.S. Department of Health and Human Services clarified the rule this week.
Drew Fox, government affairs specialist with the Kentucky Fraternal Order of Police, the statewide police union, said he was not aware of any police officer getting tested. But it was possible that an officer has been tested without his knowledge, Fox said.
Still, Fox said the union was monitoring the issue closely. Police departments in other hard-hit areas, including New York City and Detroit, have reported escalating numbers of officers testing positive for the respiratory virus.
"Police are dealing with a lot of people who may have been exposed," Fox said. "The problem is we do not wear personal protection equipment when we respond to calls."
———
©2020 the Lexington Herald-Leader (Lexington, Ky.)
McClatchy-Tribune News Service