Implementing mobile stroke units: Why proper training and streamlined workflow is crucial to success
Jefferson Health and Bensalem Rescue Squad's MSU was acquired and put into service in five months; learn how the unit's success was a direct result of collaborative efforts
---
A month ago, a Bucks County, Pennsylvania, police officer responded to what he thought was a routine motor vehicle crash. However, once the officer arrived on scene, he quickly realized that wasn't the case – noting the driver's behavior did not match the minor amount of damage to his vehicle.  
The officer, who recalled information he learned from a training event about how to recognize signs and symptoms of stroke, got on the radio and called for the new mobile stroke unit (MSU) to respond to the scene. The training event, which was held by leaders from Jefferson Health and Bensalem Rescue Squad, helped the officer recognize the crash was not trauma-related. 
Historically, officers would standby for a typical ambulance to respond. But, this officer recognized a potential stroke victim and knew the county had a special resource to assist and intervene quickly – the Vickie and Jack Farber Institute for Neuroscience – Jefferson Health and Bensalem Rescue Squad Mobile Stroke Unit.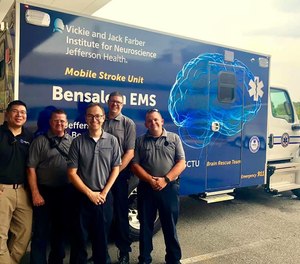 "It turns out, the driver's neurologic event caused the accident," Tom Topley, chief and executive director of Bensalem Rescue Squad, said. "He was quickly transferred to Jefferson Hospital for Neuroscience, where he received definitive treatment." 
The patient, according to John Roussis, director for the MSU and regional director for the Jefferson Neuroscience Network, would not have had as good as an outcome if not for the officer's quick thinking and activation of the MSU. 
Bringing a mobile stroke unit to Bucks County 
Bensalem Rescue Squad transports close to 3,500 patients a year to Jefferson Health's Torresdale campus in Philadelphia.  
In 2017, Dr. Gerald Wydro, chair of emergency medicine for Jefferson Northeast, and Dr. Alvin Wang, a Jefferson ER physician and Bucks County deputy medical director for special operations, reached out to Chief Topley regarding an idea of partnering with Jefferson Health System to bring a mobile stroke unit to Bucks County. After extensive preparation, the MSU was delivered in February 2019. 
"That's when planning and negotiations with the hospital began," Topley said. "Dr. Wydro and Dr. Wang felt not only was Bensalem Rescue a good geographic location, but because of our extensive work in other special projects, they felt we had a strong management team and infrastructure in place to get the program moving and make it successful."  
The MSU went into service fairly quickly. The process of getting the truck stocked, licensed and running took a little over two months.  
Crews started working on the truck on July 22, 2019. Bensalem Rescue Squad completed two weeks of workflow development and drills, and the unit went into service without tissue plasminogen activator (tPA), on Aug. 5, 2019. A few weeks later, tPA was added to the treatment toolbox.  
The truck is equipped like most of the mobile stroke units that are running throughout the United States. There is a CT machine, tPA and blood pressure medications, medications to reverse blood thinners in case of hemorrhagic stroke and a telemedicine console that allows a neuroscience physician to see, access and speak with the patient directly. The console even has a high-definition camera that allows the physician to assess a patient's pupils and move the camera around the unit to speak with other team members.  
"What really makes the unit stand out is the CT machine and its telemedicine capabilities," Topley said. "Everyone is focused on reducing door-to-tPA time, but the mobile stroke unit actually eliminates the door all together."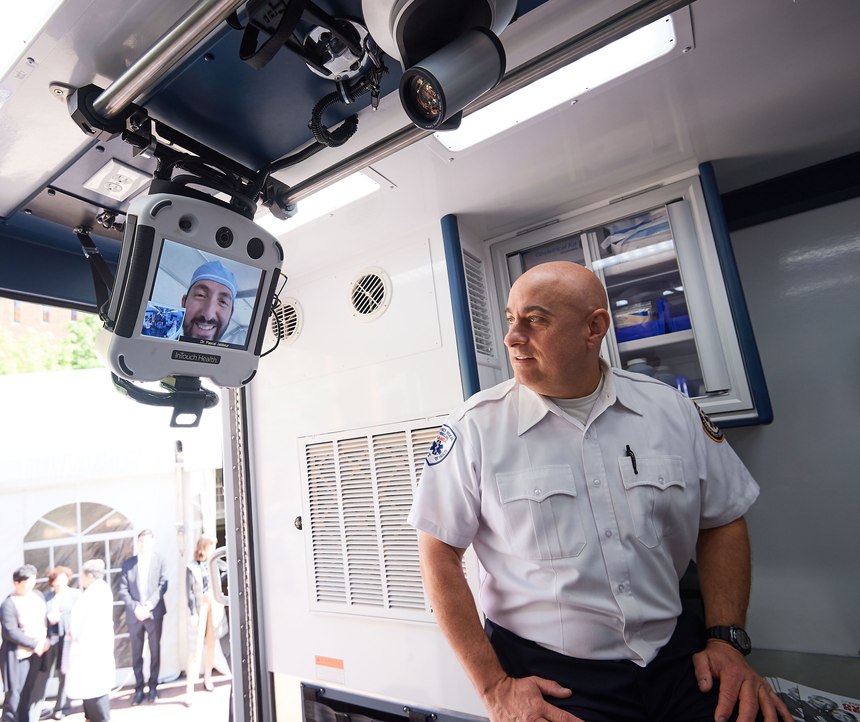 The MSU's telemedicine capability brings a world-class physician to a patient's driveway or living room, Topley said. "And, literally within minutes of our arrival, the patient has had a CT scan and is talking to a doctor," he said. 
As a result, the patient can be diagnosed and transported to a comprehensive stroke center through Bensalem Rescue Squad's rapid transfer protocol.  
Bringing access to the patient, not patient to the access 
Dr. Robert Rosenwasser, president of the Vickie and Jack Farber Hospital for Neuroscience, Jefferson Health, and Dr. Stephen Klasko, president of Jefferson Health System, shared a vision for the MSU: healthcare with no address. 
"Their real vision is bringing access to the patient, not patient to the access," Roussis, a paramedic and critical care transport veteran, said. "The mobile stroke unit was a natural fit for their vision of where healthcare is going to be going in the next five years." 
The Vickie and Jack Farber Hospital for Neuroscience is in Center City, Philadelphia. The placement of the MSU in Bucks County – between Jefferson's suburban hospitals – was a logical move, according to Topley.  
"The goal was to be able to bring big city academic hospital care to people that wouldn't normally have easy access to it," he said. "Partnering with an academic center puts the mobile stroke unit on an entirely different level. We are dealing with doctors that teach and do cutting-edge research." 
For example, if a patient is suffering from a massive stroke, then crews on the MSU can administer tPA in the field. 
"Then, we have a Jefferson-owned helicopter in flight to meet us at the local hospital while we are still en route to that same hospital," Topley explained. "This is saving these patients literally hours of time from 911 call to surgical intervention." 
Jefferson Health, a comprehensive neuroscience network, has over 38 hospitals that are involved within their network.  
"We provide the MSU with direct access to comprehensive stroke care that would normally not be available in the prehospital setting," Roussis said. "One of the big things that we do, as our mission, is to reduce time to diagnosis and treatment for stroke patients. If you look at that with the mobile stroke unit, it's a natural fit." 
The early and swift success of the MSU, according to Topley and Roussis, is a direct reflection of collaborative efforts.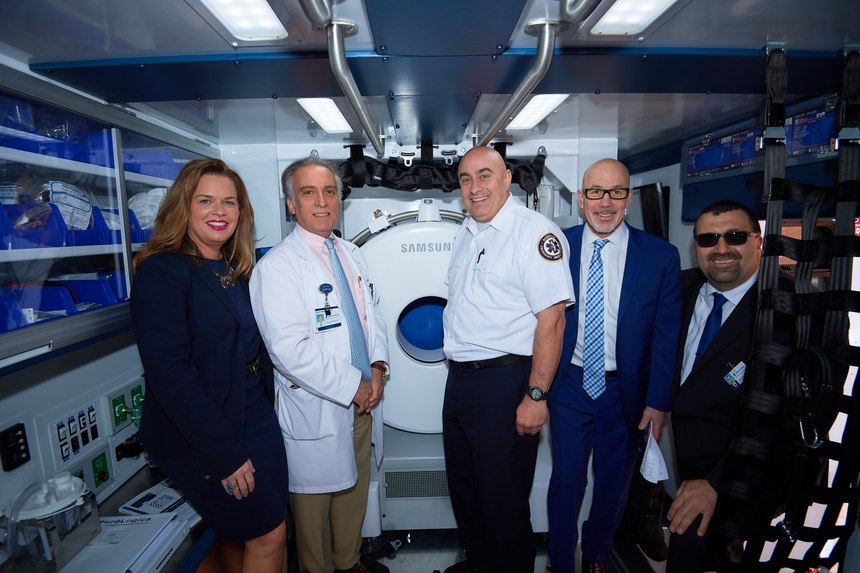 Creating a successful mobile stroke unit 
In order to avoid as many implementation hiccups as possible, Jefferson Health and Bensalem Rescue Squad developed a comprehensive training program that involved numerous hospital departments and public safety agencies. 
They made sure they had everything they needed, every step of the way – starting with state licensure. 
"We had a neurophysicist come in to talk about radiation dosing from CT scans to safety, to make sure that we had everything in place in the truck so that everyone was safe," Bensalem Rescue Squad member Robert Elliott, PHRN, said.  
Elliott, whose background is in surgical critical care nursing and critical care transport, helps manage the MSU. 
"In Pennsylvania, the Bureau of EMS details out what you need to do to become a critical care ambulance service pretty clearly," Elliott said. "So, we went in with that model – to make sure we had everything we needed before we went to the next step so we didn't have to get any recommendations for improvement."  
The MSU became licensed as a Specialty Critical Care Transport Unit with the Pennsylvania Department of Health, Bureau of EMS. 
The unit's success, according to Elliott, was thanks to the collaboration and devotion to the cause – to get the unit on the road in order to make a positive patient impact.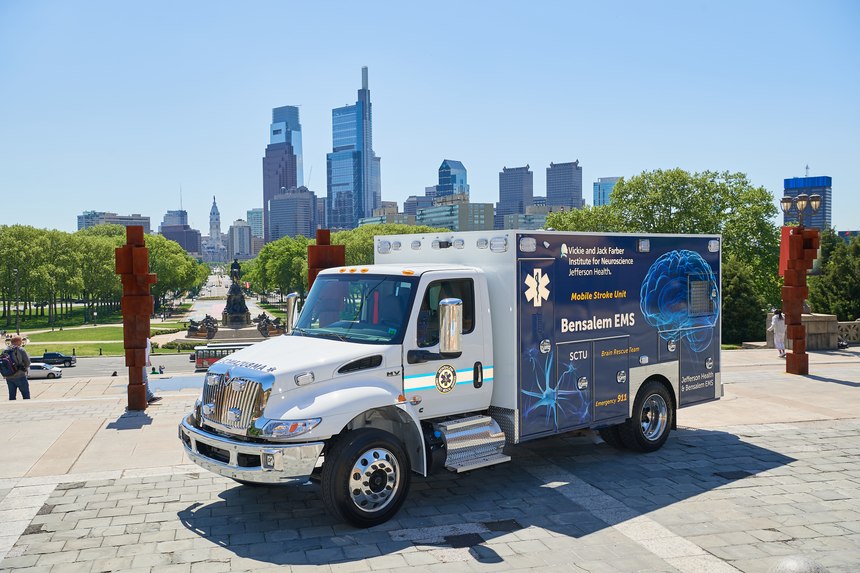 "We know we've made a difference when we can see a neuro deficit resolve or a patient in the OR within an hour of seeing them have a thrombectomy when maybe it wouldn't have been noticed before or maybe it would have been noticed a lot later," Elliott said.  
Jefferson Health quickly identified and found an EMS partner in Bensalem Rescue Squad because of their commitment to patient care, Roussis said. 
"When we went out to the field to research, Bensalem EMS stood out very quickly in terms of their structure, leadership capabilities, operational readiness and ability to meet the mission of the community," Roussis said.  
And, meeting that mission requires extensive training and preparation. 
Staffing the mobile stroke unit 
The crewmembers on the MSU are a combination of Jefferson and Bensalem personnel. Jefferson supplied the PHRNs and CT techs, and Bensalem provided the paramedics and EMTs. Jefferson Health provides the fifth crewmember remotely – a Jefferson Neuro attending. This staffing configuration is the first of its kind for a MSU in the state.  
"The crews on the mobile stroke unit couldn't be better," Topley said. "They're all working together well and excited about the project."  
In order to be fully prepared for their role on the MSU, crews from Bensalem Rescue Squad spent time in the neuroscience lab, working with Jefferson Neuroscience physicians and staff members. They learned what a stroke is and what patients have to go through for treatment and care.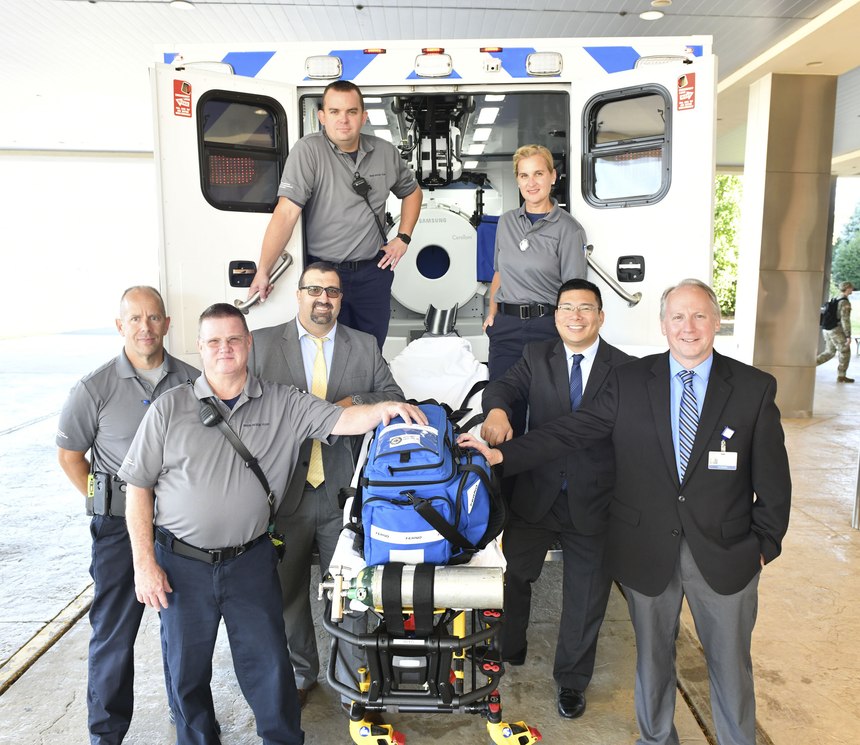 Likewise, Jefferson personnel went to Bensalem for orientation shifts to introduce them to their 911 system. There were two days of in-service training going over advanced pharmacology, and specialized protocols and equipment that are only available on the MSU.  
"The bulk of the training was two weeks prior to the unit going into service," Topley said. "It consisted of workflow processes and was really centered around the CT scanner. The goal is to reduce the time to diagnosis and treatment. Time is brain." 
Crews also focused on tasks like properly introducing themselves to patients, the best place for providers to stand while moving the stretcher, and how to handle advance treatments, like using IV pumps and ventilators. 
"This was a team effort – almost everybody had some input on the process," Topley said.  
The unit, which is staffed with an EMT, paramedic, prehospital registered nurse, CT tech and Jefferson Health Neuro attending via telehealth, runs 12 hours a day, Monday through Friday. 
"The mobile stroke units are not moneymakers and they are certainly not inexpensive," Elliott said. "But, to be able to tell someone in your community, 'Hey, we have this service. I can't tell you that it's going to cure you, but I can tell you that we're going to know what's going on right away. And, if we have the ability to treat you, we will,' is huge." 
One concern, Topley said, was ensuring neighboring EMS crews understood the importance of the MSU. 
"One of our concerns was how are we going to convince street providers, who have been taught to load and go in a busy suburban area, to sit and wait for a specialty unit when they are just minutes from a local hospital," he said. 
However, their worries turned out to be nearly nonexistent.   
"So far, we have had excellent cooperation from the neighboring agencies," Topley said. "Once they saw the technology in the truck, and realized sitting the extra 10 to 20 minutes on scene saves the patients huge amounts of time in getting definitive care, they were on board." 
It was easier for neighboring providers to understand the MSU's importance after witnessing their workflow process firsthand, Elliott said.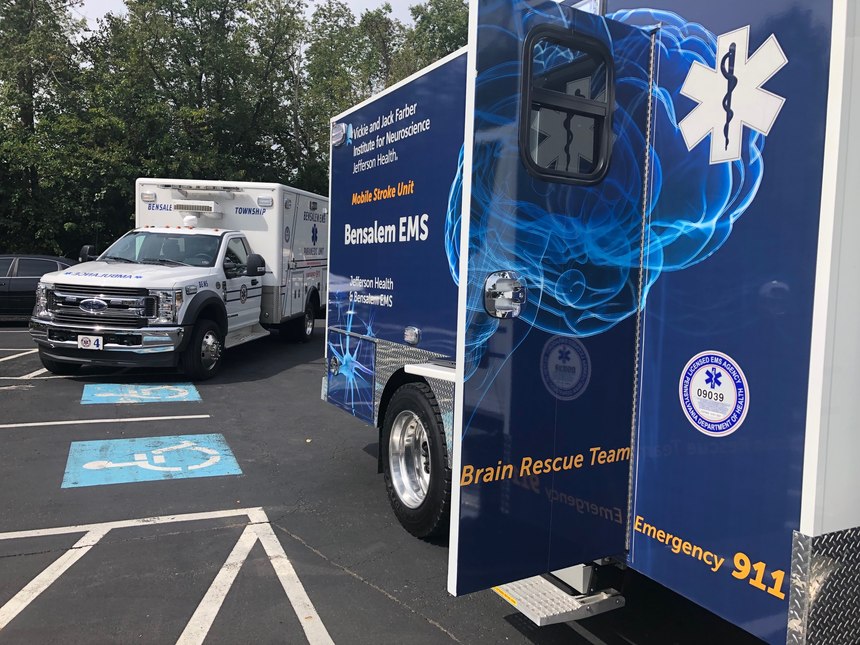 Establishing workflow for patient care 
It took crews about two weeks to develop a solid workflow for patient care in the MSU. The process involved everyone from call takers at the 911 centers to radiology at the receiving centers. 
When the MSU arrives on scene, the crew's first step is to connect with the local EMS unit that responded to the scene. 
"They usually want to know what they can do to help us out. First, they can make it so we can easily extricate the patient," Elliott said. "And, if they can grab us a basic set of vitals – heart rate, blood pressure and a glucometer reading if they have that capability – that helps us rule out major problems to start." 
Then, the crew from the MSU will do a modified Rapid Arterial Occlusion Evaluation (RACE) score. "If that is positive, then the patient is taken from wherever they are in the home or outside, and we'll put them on our stretcher and we'll load them into the ambulance – all while a Jefferson Health Neuro attending is already with the patient remotely." 
Once the patient is loaded into the MSU, crews connect the patient with the necessary equipment in the unit. 
"The first thing we do is a CT scan," Elliott said. "Once that is completed, we'll quickly weigh the patient and we will start our telemedicine process." 
Their average curb-to-scan time, which starts when crews arrive at the patient's door, is 12 minutes. Their average curb-to-tPA time is 36 minutes. 
This is made possible because every provider has a pit crew-defined position for where they're supposed to be, from the EMT to the CT tech. "And those providers know they're not supposed to deviate from that position," Elliott said.  
Because of their established and streamlined workflow, Elliott said crews are able to work their way around any kind of situation.  
Thank you to Thomas Topley, Executive Director at Bensalem EMS for joining Dr. Rob Danoff and Dr. Gerald Wydro, Chair, Emergency Medicine for Jefferson Bucks, Frankford, and Torresdale Hospitals, who today unveiled a new, innovative way of treating patients experiencing a stroke in Lower Bucks County. Drs. Rob and Wydro were joined by Dr. Alvin Wang, an emergency medicine physician at Jefferson Torresdale Hospital, John Roussis, Regional Director, Jefferson Neuroscience Network at Jefferson Health, and Laura Griffin, CEO of Frazer, Ltd., who discussed the new Mobile Stroke Unit operating out of Bensalem EMS, and how this leading-edge vehicle will help save lives and reduce the effects of stroke.

Posted by Jefferson Health - Northeast on Thursday, May 16, 2019
"We've trained in so many different circumstances," he said. "We've had twelfth floor building extrications, where we have to go up an elevator. We've had people in backyards with difficulty gaining access. You name it and we've trained for it." 
As a result, everyone is on the same page for the time-sensitive nature of the MSU's patients.  
"It's such specialized care," Elliott said. "At the end of the day, if you can go home and say, 'Hey, I was able to assist this patient in having tPA or a thrombectomy because of quick diagnosis of stroke,' then that person might have a better outcome and a better life." 
Improving outcomes, Elliott noted, is made possible because of the MSU. 
"In EMS, I've never personally found that we save a lot of lives. We certainly help a lot of people, but I feel like this is one of these circumstances where we actually can help to improve outcomes," he said.  
Their goal, he said, is to improve the modified rank and score discharge in hopes that the patient will go home with little-to-no neuro deficit and lead a good quality of life.  
"It's about lessening hospital and rehab stays and decreasing neuron death," he said. "We can't get those brain cells back." 
Introducing the New Mobile Stroke Unit

Stroke is the leading cause of serious long-term disability, but early treatment can save lives. The goal of our new Mobile Stroke Unit (MSU) from the Vickie and Jack Farber Institute for Neuroscience - Jefferson Health and Bensalem EMS, is to shorten the time between the onset of stroke-like symptoms and the delivery of "clot-busting" drugs to improve patient outcomes.

Posted by Jefferson Health on Thursday, May 16, 2019