If your EMS agency isn't innovating, then it's already behind
The Promoting Innovation in EMS project has released a national framework with recommendations for promoting innovation in EMS for public comment
---
SAN DIEGO — The concepts of mobile integrated health care and community paramedicine have become synonymous with innovation in EMS. A panel presentation at the National Association of EMS Physicians Annual Meeting challenged attendees to expand beyond that ideal by arguing anything can be innovative so long as it is outside the stereotypical mental model of EMS.
Recognizing the large role social determinants of health play in the well-being of patients accessing their system, San Diego EMS has developed relationships with a variety of non-health care service providers throughout the region to create an accountable care community. The success of these efforts has been assisted by a number of factors including strong electronic medical records and a health information exchange that was designed to incorporate EMS information from the project's inception.
This program was part of the inspiration behind the Promoting Innovations in EMS project.  The goal of PIE, a collaboration between the University of California, San Diego Health System and Mount Sinai Health System, is to support "the implementation and dissemination of innovative EMS delivery models."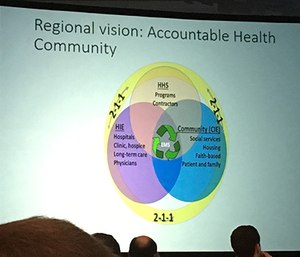 The first step of the project was to identify the barriers EMS providers face when attempting to innovate. Now a national framework, with recommendations on how to promote innovation in EMS, has been released for comment.
Memorable quotes
The panelists, Noah Smith, Jim Dunford and Kevin Munjal, made these memorable quotes during the presentation.
"Beyond the more obvious MIH/CP programs, there are tons of innovations that are equally as important, and equally as difficult to implement and sustain." — Noah Smith, EMS Specialist, NHTSA
"In a lot of our communities we're not even doing what is known to be best practices." — Kevin Munjal, MD, MPH, assistant professor, Mount Sinai Medical Center
Innovation is "the process of translating an idea or invention not a good or service that creates value for which customers pay" — Business dictionary. Used by Kevin Munjal to convey the broad scope innovative ideas can cover.
"I used to think innovation was optional ... If you are not an innovator today, you've missed the point, the train has left the station" — Jim Dunford, MD, FACEP, Medical Director, City of San Diego EMS
Key takeaways
Here are my three takeaways on innovation in EMS:
Innovation in any industry isn't easy, but this is particularly true for EMS given our crossover into the realms of public health, public safety and health care.
However, those same barriers provide a unique opportunity to have a seat at the table when developing novel models of care delivery.
Innovation can be done at any level; it simply requires a desire to do things differently for the benefit of stakeholders.
The PIE project's recommendations are open for comment. Anyone within EMS is encouraged to read them and provide feedback.
About the author
Catherine R. Counts is a doctoral candidate in the department of Global Health Management and Policy at Tulane University School of Public Health and Tropical Medicine where she also previously earned her Master of Health Administration. Counts has research interests in domestic health care policy, quality and patient safety, organizational culture and prehospital emergency medicine. She is a member of AcademyHealth, Academy of Management, the National Association of EMS Physicians, and National Association of EMTs.
Counts is the author of a blog focused on applying the concepts of health services research to the field of prehospital emergency medicine. Connect with her on Twitter or contact her via email at ccounts@tulane.edu.