Paramedics to deliver heat safety tips and cold water to seniors
St. Charles County Ambulance District received a grant from Costco to check on seniors during periods of high heat and humidity
---
ST. PETERS, Mo. — On hot summer days paramedics in the St. Charles County (Mo.) Ambulance District (SCCAD) will deliver ice-cold bottled water in neighborhoods heavily populated by seniors.
The medics, volunteering their time, will be rolling coolers instead of stretchers as they knock on doors to check in on seniors and to provide information on how to stay safe and hydrated during periods of high heat and humidity.
"Our region is known for its hot, humid summers, and these conditions can be particularly dangerous for older adults," said Kyle Gaines, SCCAD Director of Community Relations.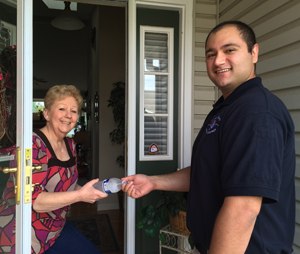 The SCCAD program, made possible through a grant from their local Costco store, intends to keep senior citizens safe on hot summer days. In addition to safety tips each resident will receive a bottle of water.
"Our goal with these one-on-one interactions is to encourage our community to stay safe from the heat throughout the summer," Gaines said.
Some of those key points paramedics will be discussing with seniors are:
Checking with a physician to see if any prescription medications taken by the senior can cause sensitivity to heat and/or sunlight.
Scheduling errands and appointments for early morning to avoid the hottest part of the day.
Simple changes to diet that can help the body stay hydrated.
"We were thrilled that the paramedics approached us about partnering on this initiative – it's a wonderful opportunity to promote safety awareness in our community," said Melissa Warner, Costco Receiving Manager.