Mo. paramedic leads effort to #StopHeroin
Paramedic Lisa Cassidy collaborated with several community groups to launch an opioid awareness campaign
---
ST. CHARLES COUNTY, Mo. — If asked to name areas with drug problems, St. Charles County, Mo. is not likely to be near the top of anyone's list. On the surface, the St. Louis suburbs are a great place to raise a family, thanks to the area's fantastic school districts and high median income. Despite these positive factors, this community, like much of the U.S., has seen recent surges in heroin and prescription opioid addiction.
Though drug trends such as meth, K2 and bath salts have all left their mark in St. Charles County, none have been so destructive and widespread as opiates are now.
Since 2008, St. Charles County Ambulance District's heroin/opioid overdose call volume has more than doubled, and is projected to hit 400 calls by the end of the year — a worrying figure for a community of approximately 385,000. St. Charles County saw its biggest jump in opioid calls between the 2014 and 2015, when call volume spiked approximately 40 percent.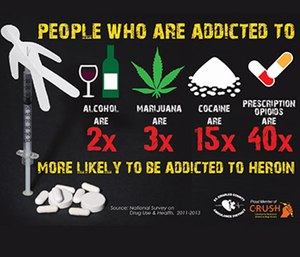 When St. Charles paramedic Lisa Cassidy saw the opioid epidemic unfold in her community, she found it impossible to stay silent.
"Prescription opioid and heroin OD's have become quite an issue in our community.  We're on track to run 400 OD calls this year — a slight uptick from last year, a huge leap from 2014. "
Cassidy hated seeing the toll that opioids took on her community, and approached St. Charles County Ambulance District (SCCAD) leadership about working together to launch a drug awareness and prevention initiative. Together, they developed a cohesive infographic campaign under the hashtag #StopHeroin that will span across SCCAD's social media, newsletter and website during the month of August.
In addition, Cassidy became a member of Community Resources United to Stop Heroin, better known as CRUSH. The local coalition is made up of individuals from law enforcement, school districts, treatment facilities and other community groups. CRUSH will also use SCCAD campaign materials to support its mission of empowering youth to abstain from using heroin.