Firefighters cut elderly man's lawn who fell off mower
The 81-year-old man's legs gave out and tumbled to the ground; crews noticed his lawn wasn't done and finished the job
---
BORGER, Texas — Firefighters finishing mowing an 81-year-old man's lawn after he fell off his lawnmower Monday.
WCVB.com reported that the Borger (Texas) Fire Department responded to the call after Roy Haley's wife called 911. Haley, who admitted to having poor circulating in his legs, thought he could get the job done with a little care and precaution.
"I just felt so useless and I bought me a lawnmower, and I thought that I could get on it," Haley said. "And I finally did."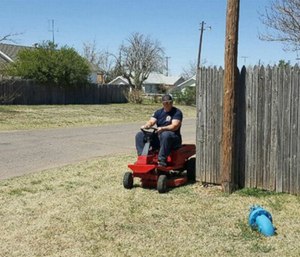 Haley's legs gave out and he backed into a barrel before tumbling to the ground. An EMS crew treated Haley, who suffered non-life threatening injuries, but the firefighters noticed his lawn still needed to be finished.
"One of my firefighters noticed that a little part of the yard got missed and so we decided to mow that part," Capt. Shawn Burleson said. "And then another one of the firefighters noticed that the front yard hadn't even been mowed yet and asked if we could mow that."
The work was divided among four firefighters.
"That's the kind of people we have here in our town," Haley said. "If you're a senior citizen, I guarantee you someone in this town will help you."