Fire dept. launches program to help patients with special needs
Binders filled with visual aids and necessary information will be created and distributed to those with special needs in an effort to make treatment easier
---
By Adam Silva
Wicked Local
HANOVER, Mass. — A new public safety program is in the works in Hanover to open dialogue when medical attention is necessary.
The focus won't be solely on special needs, as it can include anyone with a unique medical problem that requires a special care plan, according to Hanover Fire Deputy Chief Jason Cavallaro. Many people have come to the fire department in the past to alert of them of their or a family member's situation.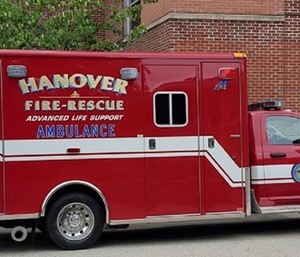 "With this information, we can meet them, prepare for them, figure out what their needs are and train our guys in their specific issue and their specific care plan," said Cavallaro. "If by chance we end up going to their house or whatever the case may be, it will be easier for our guys to treat them."
In the past, the department has been able to set up a system on its dispatch computer that alerts them and "gets the ball rolling." After that plan was put in place, public safety department heads realized they could be doing more.
While the plan is "low sophistication" according to Cavallaro, binders would be created and distributed to those with special needs that would be predominately visual aids. Information included in the binder would be all the emergency team would need to know.
"Our dispatch would let us know that there will be someone there with a care plan and we will be looking for that," he said. "Beyond that, it can let us know other things that we need to know, such as the address is on this street, but the driveway is on another street."
The job is a continual learning process, according to Fire Chief Jeffrey Blanchard, as first responders learn from families of those in need as they are often the experts in their loved ones care.
While the program is still some time away before being implemented throughout the town, Cavallaro compares having a plan in case someone needs medical attention to having a fire escape plan in an office building.
"Not everybody would fit into this program because if someone has diabetes, for example, we have calls for diabetics all the time," said Cavallaro. "It's not something that we really need to know about. Same with seizure disorders, but there are some kids at Cardinal Cushing Center that have seizures, but one in particular doesn't get IV's. That's something we need to know about ahead of time."
Copyright 2018 Wicked Local