Uvalde communications center to get upgrade
The donated equipment can't fix the radio dead spots that reportedly affected officers' response to the deadly school shooting, Police Chief Daniel Rodriguez said
---
By Leila Merrill
UVALDE, Texas — The Uvalde emergency communications center will get a $142,500 upgrade thanks to nine donors and a city council vote to accept the offer on Tuesday.
But the improvements will not fix the radio "dead spots" that hampered the police response to the shooting that killed 19 children and two adults at Robb Elementary School on May 24, according to the San Antonio Express-News.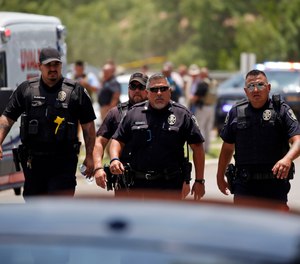 The National Emergency Number Association will remodel the Uvalde communications center. Cindy McCraw, president of the association's Texas branch, said nine donors gave at least $142,500 worth of items such as new communications consoles, desks and flooring. The largest contributor is Evans Consoles Corp., which designs and equips command centers.
The communications center did not itself have technology issues on the day of the shooting, but law enforcement officers in the school's hallways had trouble with their radios.
U.S. Border Patrol agents' radios did work.
Uvalde Police Chief Daniel Rodriguez said the new center would be more efficient, requiring fewer dispatchers.
As for the radio dead spots, "that's a different issue," he said. "By doing this here, it's not going to improve that. That's an antenna. That's a communications issue that's beyond this."