Congress members, first responders hold press conference calling for T-band protection
Lawmakers have proposed a bill that will prevent the FCC from auctioning off the band of spectrum used by first responders across the country
---
By Laura French
WASHINGTON — First responders and U.S. Congress members held a press conference on Tuesday to call for the passage of legislation that will protect the T-band spectrum used for fire, EMS and police radio communications throughout the country.  
The proposed legislation would prevent the Federal Communications Commission (FCC) from auctioning off the T-band spectrum by 2021, as directed by the Middle Class Tax Relief and Job Creation Act of 2012.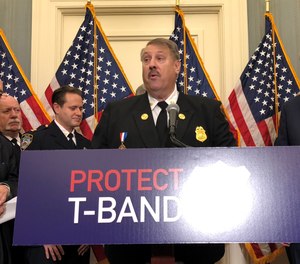 The plan to auction off T-band has already left some first responders "in limbo," as the FCC has begun denying customary license renewals for T-band users, and public safety organizations have determined that large cities, such as New York City, Chicago and Philadelphia, lack sufficient spectrum in any band to relocate public safety operations, according to the office of Sen. Edward J. Markey, who introduced the bill.
Leaders in public safety, including IAFC President and FireRescue1 Editorial Advisory Board Member Chief Gary Ludwig, IAFF General President Harold Schaitberger and Greater Boston Police Council Chief James Hicks, joined Markey, Democratic Leader Sen. Chuck Schumer, Congressman Eliot Engel and Congressman Lee Zeldin in promoting the bill at the U.S. Capitol Building in Washington, D.C.
"Our message today is simple: In the name of public safety in our largest metropolitan areas such as New York, Boston, and Los Angeles, Congress must repeal the T-Band auction mandate," Ludwig said. "Unfortunately, time is running out for Congress to act. The nation's fire chiefs are not here to say how, but – respectfully – here to say now."
Ludwig said a fire officer in a busy metro area will use their radio to transmit messages over T-band 100 times a day, and that first responders' reliance on the spectrum increases dramatically during major incidents, such as terrorist attacks.
He also noted that the U.S. Government Accountability Office released a report in June 2019 showing that cities lacked viable T-band alternatives, and that FCC Chairman Ajit Pai issued a statement in December saying the costs to replace T-band would exceed the revenue from auctioning it off. 
"It is imperative that Congress pass legislation repealing the T-band auction mandate this year, before time runs out," Ludwig said. 
Schaitberger added that the loss of T-band would affect not only affect departments in the nation's largest cities, but hundreds of emergency agencies in surrounding areas. Schaitberger said the cost to replace T-band would be "unsustainable." 
"Our members have to be able to communicate, and we need what we consider a critical voice to be able to do the tough work that they are charged with doing and that they do every single day," Schaitberger said. "Remaining on the T-band will allow that communication to continue."
Schumer spoke in support of Markey's legislation, saying, "They've told first responders, 'Move out of your old house, but the new one hasn't even been built" ... Our first responders deserve a communications system they can trust and rely on." 
Watch the full press conference below:
When a firefighter reaches for her radio to call for backup, she relies on T-Band frequency. But if Congress doesn't act, first responders will lose this tool. We must protect T-Band so firefighters, police officers, and EMS have the tools they need to save lives.

Posted by Senator Edward J. Markey on Tuesday, March 10, 2020
Read the T-band protection bill: