Video: 40 passengers hurt when train hits tractor-trailer
A witness said the tractor trailer driver was trying to make a difficult right-hand turn and jumped out of the truck right before the crash
---
RALEIGH, N.C. — At least 40 passengers were injured when an Amtrak train collided with a tractor trailer that was stuck on the tracks in North Carolina.
Department of Transportation officials told the Associated Press that 25 people were taken to Halifax Memorial Hospital by bus and 15 were transported by ambulance after the collision. The train was traveling from Charlotte to New York and derailed in Halifax County.
Another 173 passengers were unhurt, and were taken by bus to Richmond, Va.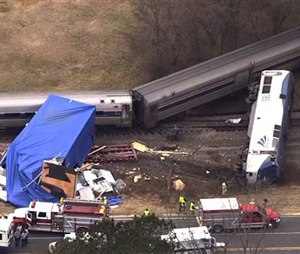 Bystander video captured the moment of the crash, which occurred around 12:15 p.m. at the intersection of U.S. Highway 301 and N.C. Highway 903. Witness Amber Keeter told WRAL she was in a car behind the tractor trailer, which, with the help of a state trooper, had been trying for about 15 minutes to make a difficult turn onto U.S. 301.
"It wasn't so much they got stuck (on the tracks)," she said. "They could not make the turn. They were too long."
The driver of the truck jumped out before the collision. The force of the impact derailed the train and baggage cars; the engine toppled onto its side while the other cars remained upright.
Charlotte Story, a University of North Carolina at Chapel Hill student, was in the seventh car at the back of the train.
"There was a massive jerk and we were kind of thrown forward a little bit, and the train came to a sudden stop," she told WRAL. "I couldn't tell you if it was trying to slow down or not. There was no whistle. It came completely out of the blue."
Keeler watched as the impact shattered the structure that was on top of the truck, sending debris across the scene.
The Halifax County Sheriff's Office and the state Department of Transportation are investigating the crash.
"We are relieved that there are not fatalities reported at this time, and our thoughts and prayers are with those who are injured," Transportation Secretary Tony Tata said in a statement. "Safety is always our top priority, and we continue to urge everyone to use extreme caution and stay alert when crossing our railroad tracks."
UPDATE - @NCDOT says 40 people injured in Halifax County train derailment. More here: http://t.co/6a0gUKdlai pic.twitter.com/Pyb0jKX34B

— ABC11 EyewitnessNews (@ABC11_WTVD) March 9, 2015