25 hurt in Paris train collision
Nine of the injuries were serious; the crash signals maintenance problems and uneven speed
---
The Associated Press
PARIS — France's transport chief says faulty maintenance on a signal and hot weather may have played a role in the collision of two trains in southwest France, which left 25 injured.
France, whose extensive train network is widely used by tourists in summer, is upgrading railways nationwide as part of larger reforms of the industry.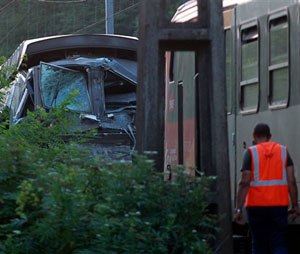 A regional train hit a slower-moving national TGV train bound for Paris from behind Thursday evening in the town of Deguin.
Frederic Cuvillier said on Europe-1 radio Friday that "maintenance on the signals appears to have been disrupted and faulty." He noted that heat can also cause signal problems. Cuvillier would not say whether the accident was due to human error or technical problems.
Nine of the injuries were serious, authorities said.