Army veteran paramedic saves fellow veteran after STEMI
Bristol Health (Conn.) EMS Paramedic Taylor Gonzalez, 31, responded when fellow Army veteran James Whalen, 70, suffered a heart attack while swimming
---
By Laura French
BRISTOL, Conn. — An Army veteran paramedic in Connecticut saved a fellow Army veteran last weekend after the latter suffered a heart attack at a swimming pool. 
Bristol Health EMS Paramedic Taylor Gonzalez, who served in the Army from 2007 to 2013, including in Iraq, responded to the call made by lifeguards after James Whalen, 70, who served in Vietnam, went into cardiac arrest, according to a University of Connecticut news release. Gonzalez and his crew transported Whalen to UConn Health John Dempsey Hospital as he went in and out of consciousness.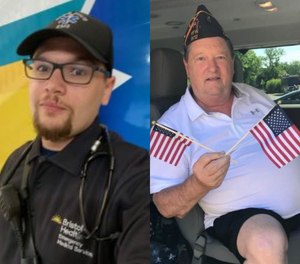 "In the middle of my care of Mr. Whalen, my colleague kept him talking. She asked him to tell us about himself. He replied 'I'm a veteran' and she informed him 'Well the EMT working on you right now is a veteran too!'" Gonzalez said in a statement. "Saving the life of a fellow veteran was quite surreal. I never thought I would ever be doing that." 
Lifeguards had performed CPR on Whalen and shocked him with an AED before the ambulance crew arrived, causing him to regain a pulse and consciousness. However, Whalen went into cardiac arrest again, and the EMS team gave him another shock with an AED. Gonzalez said an electrocardiogram showed Whalen suffered a serious STEMI heart attack. 
After arriving at the hospital, Whalen was taken to UHealth's Calhoun Cardiology Center, where the Cardiac Catheterization Lab team placed cardiac stents and restored healthy blood flow to his heart. Whalen recovered and was released from the hospital three days after his heart attack. 
Prior to going to the pool, Whalen had been placing American flags at the graves of fallen soldiers ahead of Memorial Day, something he has done every year since 1971, Whalen said. 
"This is a heartwarming Memorial Day story. UConn Health is on standby 24/7 to offer patients lifesaving heart attack care and treatments at a moment's notice," stated Dr. Michael Azrin, the director of Cardiac Catheterization and Interventional Cardiology at UConn Health, and the doctor who, alongside his team, successfully opened Whalen's heart blockages.