S.C. school bus with 8 kids onboard hits teen pedestrian, crashes into building
EMS providers treated and transported six students and one adult to several medical centers in the area
---
Moira Ritter
The Charlotte Observer
CHARLESTON, S.C. — A school bus driver lost control and crashed into a building, sending eight people to the hospital, South Carolina officials say.
The Charleston County School District bus was carrying eight elementary school students when it crashed into a North Charleston store around 7:45 a.m. Tuesday, Sept. 20, North Charleston Fire Department Assistant Chief Christian Rainey said in a news conference posted by WCBD.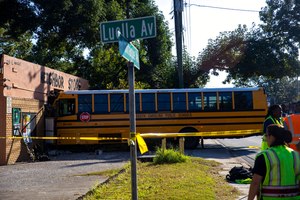 The bus was transporting North Charleston Creative Arts Elementary School students, a Charleston County School District spokesperson told McClatchy News.
As the bus turned off of Luella Avenue onto East Montague Avenue, the driver lost control, striking a 15-year-old pedestrian before hitting the Neighbor Store at 1740 East Montague, the North Charleston Police Department said in a news release. The teen suffered minor injuries and was transported to MUSC Shawn Jenkins Children's Hospital.
A second teenage bystander was struck by a tree branch as a result of the crash and suffered minor injuries, police said. That teenager was also transported to MUSC.
Both teenagers are students at North Charleston High School and were on their way to school at the time of the incident, a Charleston County School District spokesperson told McClatchy News.
The eight students on the bus were checked out at the scene, and four were transported by EMS to MUSC and Trident Centre Pointe Emergency Room with minor injuries.
A total of six students were taken to the hospital for medical care, according to the school district spokesperson.
An adult also went for medical care, Rainey said.
The store was not yet open and no one was inside at the time of the crash, Rainey said.
Authorities said they plan to complete a safety inspection to secure the building before removing the bus from the structure.
The North Charleston Traffic Unit is investigating the incident.
The school district had staff at the scene of the incident offering support for students and families, the spokesperson told McClatchy News. Students who were not transported for medical care went to school as usual and are being offered additional support from staff.
___
©2022 The Charlotte Observer
McClatchy-Tribune News Service