Bleeding control kits to be installed across Fla. city
The kits will be installed next to already existing defibrillator kits in city facilities, community centers and parks
---
By Adam Sacasa
Sun Sentinel
HOLLYWOOD, Fla. — Whether it's a gash as you're installing hurricane shutters or cuts from a shattered window, it takes only three to five minutes for a heavily bleeding wound to kill you, says Candace Pineda, Trauma Program Manager at Memorial Regional Hospital.
It's during those crucial minutes that Hollywood city officials want people to not just call 911 and wait but to take action to save a life.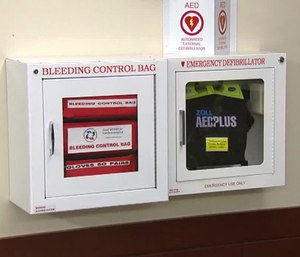 Ninety bleeding control kits will be installed across the city in the next several weeks.
The kits, paid for with federal grant money, will be installed next to already existing defibrillator kits in city facilities, community centers and parks.
It will contain instructions, a tourniquet, gauze, gloves, scissors and other items.
The kits are part of a national campaign, Stop the Bleed, started by the Department of Homeland Security in 2015 to help improve survival rates after mass casualty events like the Pulse nightclub shooting in Orlando and the Fort Lauderdale-Hollywood International Airport shooting.
With more than 500,000 people injured every year and dying from those injuries, Pineda said most of those deaths could have been prevented.
Chris Del Campo, Division Chief of EMS for Hollywood Fire Rescue, said a lot of the initiatives in the campaign started locally.
"Loss of blood is one of the main reasons people die from traumatic events," Del Campo said. "If you can get a tourniquet on somebody and stop the bleed, you save their life."
Firefighters are helping with training and delivery of the kits, he said.
The town of Davie helped start this process and has a similar existing program. Hollywood is hoping to work with other nearby cities to expand the program, Pineda said.
Copyright 2017 Sun Sentinel