Ala. fire dept. equips schools with bleeding control kits
Wall-mounted stations each contain eight bleeding control kits, giving each school 24 smaller sets of tools that can be used in the most serious of emergencies
---
By Donna Thornton
The Gadsden Times
RAINBOW CITY, Ala. — John S. Jones Elementary School Principal Tanya Clark hopes the latest addition at her school is strictly for decoration — that the Bleeding Control Kits placed at Rainbow City's three schools will never used.
The Rainbow City Fire Department made the kits possible, and installed them this week: three each at John Jones, Rainbow Middle School and Westbrook Christian School.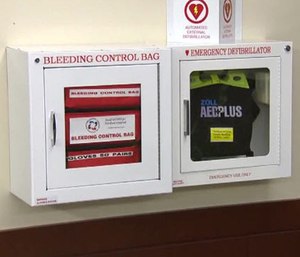 Assistant Chief Richard Johnson and Emergency Medical Coordinator Todd Cook were at John Jones Wednesday, placing the kits. Johnson said fire department personnel will be back Monday for in-service training with faculty and staff about using the kits, and they will do the same at the other schools.
Wall-mounted stations each contain eight Bleeding Control Kits, giving each school 24 smaller sets of tools that can be used in the most serious of emergencies.
As the firefighters talked to Clark and school nurses Tammy Phillips and Michele Nichols about the kits, they talked about the numbers of victims in school shootings. The recent history of such incidents is the reason the department wanted to equip the schools with these kits.
Johnson said the department got a $4,000 grant from the Community Development Board to help pay for the expensive kits, and Fire Chief Melvin Potter agreed for the department to cover the rest of the cost.
The kits are designed for public access and public use. Cook said they come with instructions and were created to be easy to use, but can help someone provide life-saving assistance.
Kits include a Combat Application Tourniquet, gauze pads and even a litter that can be unfolded and used to carry an injured person.
They include a HyFin chest seal — a bandage that can be used to close a "sucking chest wound" so air can't get into the chest cavity. Johnson said they are designed so they don't have to be released to let air out.
Cook told Clark and Phillips that the wall-mounted stations would not be locked, but would have a seal so school personnel can see if someone has tampered with them. The seal will break easily, Cook said, if someone needs access to the kit.
He cautioned that school personnel need to know these kits are for serious injuries — bleeding that can't be controlled by putting pressure on a wound. They shouldn't be opened to treat a skinned knee.
The Rainbow City Police Department equipped each classroom in the three schools with a first-aid kit and cases of bottled water near the end of the last school year to enable people to treat injuries before emergency personnel arrive.
Johnson said just as schools have fire extinguishers to deal with a fire until firefighters arrive, and Automatic External Defibrilators to treat cardiac arrest before EMTs arrive, these kits will help them treat serious injuries should there be some sort of active shooter incident at a local school.
Gadsden firefighters placed similar kits in each of the Gadsden City Schools last week, and trained school personnel in using them.
Copyright 2018 The Gadsden Times