Ohio FF-medics get visit from baby they delivered along side of road
2-week-old Julian Juan Torres and his family stopped by Columbus Station 27 to say thank you
---
Bethany Bruner
The Columbus Dispatch
COLUMBUS, Ohio — Columbus firefighters at Station 27 got a special visit on Tuesday from a 2-week-old baby they delivered along the side of Route 315.
The little boy, Julian Juan Torres, was born Oct. 11 in a vehicle on the side of the roadway on the city's Northwest Side.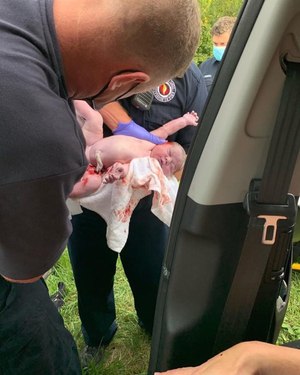 According to the Columbus Division of Fire, a call was received around 4:40 p.m. Oct. 11 about a woman in labor. The woman was attempting to get to the hospital, but Julian apparently could not wait.
City firefighter-paramedics safely delivered Julian and then transported him and his mother to a local hospital for further evaluation.
Julian weighed 9 pounds 5 ounces and measured at 20.5 inches long.
On Tuesday, Julian's family took him to city fire Station 27 to thank the paramedics who helped bring him into the world.
©2021 www.dispatch.com. Visit dispatch.com. Distributed by Tribune Content Agency, LLC.
McClatchy-Tribune News Service